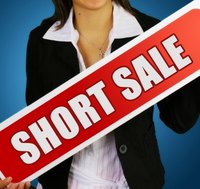 A short sale is defined as a real estate transaction in which the bank has agreed to settle with a mortgagor for less than the balance owed on a property. Typical short sale candidates will have less than 20 percent equity in the property and can no longer afford to make monthly mortgage payments. However, having a property in active short sale is more complicated than just putting it on the market and advertising it as a short sale. All short sales require lender approval. Having a property in pending short sale status is very different than having a property in active short sale status.
Types
In a short sale transaction, two types of real estate terms are used most commonly: active short sale and pending short sale approval. A status of pending short sale approval means that the borrower has sent in a hardship package to the lender detailing financial difficulties and current payment status, whereas active short sale means that a borrower has completed the hardship package and received the approval from the lender to sell the home short of what is owed to the bank.
Time Frame
With short sales that are pending approval, it can take as little as two weeks or as long as two months for the bank to review the hardship packet and render a decision on whether the property is eligible for short sale or loan modification, or if it is more reasonable to foreclose on the property. Typically, short sale approvals are based on the amount the bank believes it can recover in the sale of the property, as determined by a market analysis of comparable sales in the area performed by a licensed real estate agent and/or licensed appraiser.
Appraisal
Properties with active short sale status have been appraised by an independent appraiser to determine market value. Properties that are pending short sale approval have not been appraised, and the value is set by a real estate agent marketing the property to obtain offers for the short sale. Offers received and collected will have to be sent to the lender for approval in a short sale.
Features
Short sales can be more beneficial to buyers, as they do not have to worry about going through the eviction process as they would with a foreclosure property. Short sales can also mean that a buyer can purchase a property at a substantial discount, even though response times on short sales are typically longer than what can be expected in a retail real estate transaction.
Benefits
Short sale benefits the lender by relieving him of the expensive costs of foreclosure proceedings. This type of transaction can also benefit the current owner, as a short sale does not have as damaging an effect on her credit history as a foreclosure would.
Warning
Prior to placing an offer on a property that is pending short sale, talk with the real estate agent representing the seller and ask where the borrower is at in the short sale approval process. This will provide a good indicator of lender response times to an offer. Always include an approved short sale addendum for short sale offers to protect your interest in the event that the lender response takes longer than a week to receive, allowing you to back out of the transaction.
Expert Insight
When placing an offer on a short sale property, it is advisable to offer either the listing price or a price above what the property is listed for in order to obtain lender approval. Since lenders will only accept the highest and best offer possible, it is wise to look at a short sale as a bidding process, with the highest bid receiving keys to the property. Regardless, expect a long wait for a response from a lender.