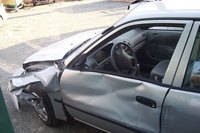 Personal injury protection (PIP) auto insurance is a protection that provides benefits to you and possibly your passengers if you become injured in an accident. In many states, this may be considered optional coverage. In other states, it is part of a mandated coverage package that must be in place to operate a vehicle legally in the state.
Significance
While many may think bodily injury liability insurance covers all of those who have injuries if they are at fault in an accident, that is not the case. Bodily injury does not cover the policy holder, or others on the policy. Therefore, PIP insurance is there to help take care of the policyholder and possibly the policyholder's passengers.
Medical Bills
Whenever an accident occurs, the biggest potential expenses are medical payments, especially when hospitalization is required. While your health insurance, if you have it, will pay for injuries, PIP can provide additional protection. Depending on which offers you the better deal, you may choose to file claims with one before using the other. However, while health insurance claims rarely result in increased premiums, car insurance claims may.
Lost Wages
Another important benefit of PIP auto insurance is the lost-wage benefit. Car accidents involving hospitalization may keep the injured person from working at their regular job. In such cases, the PIP insurance will pay lost wages up to a certain amount. Like all coverage, certain limits will be imposed, but the individual will often be given the choice of several benefit packages.
PIP Requirements
Each state requires its residents to have a minimum amount of insurance, but not all require PIP (see Resources). Drivers from other states are not required to have those same amounts but could also be legally liable in the case of an accident for anything their insurance does not cover. States requiring PIP as of 2009 are Arkansas, Delaware, Florida, Hawaii, Kansas, Kentucky, Maryland, Massachusetts, Michigan, Minnesota, New Jersey, New York, North Dakota, Oregon, Pennsylvania and Utah.
Reasons to Carry PIP
Even if it is not required in the state where you live, you may determine that it is in your best interest to carry PIP insurance. This is especially true if you have limited or no health insurance coverage. At the very least, it will help with some medical payments in the event of an accident.
Effects
While many types of auto insurance are meant to help protect and benefit other people, PIP is specifically created to benefit the driver and possibly passengers. Therefore, it is slightly different from other products. Overall, PIP is one of the few products in the auto insurance market where the buyer can really assess what they need based on insurance they already have.