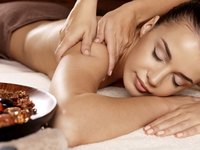 You can always use a good excuse to splurge on a massage, but unfortunately, massage alone won't magically help you lose weight. Instead, you lose weight by burning more calories than you consume. However, the extensive benefits of massage can complement a weight-loss plan and indirectly help you reach your weight-loss goals.
The Weight-Loss Connection
Massage can help reduce the risk of many health conditions that are roadblocks to reaching your weight-loss goals. The pressing and rubbing of your muscles, tendons, joints and ligaments can help increase blood circulation, improve digestive disorders and reduce joint pain and anxiety. Successful weight loss requires focus and dedication, and a regular massage can help you relax, allowing you to clear your head and remove stressors that may be keeping you from your weight loss goals.
Stress Reducer
Stress releases the hormone cortisol, which activates the "fight or flight" response, but the body isn't meant to be on high alert all the time. Over time, this puts you at risk for weight gain because it disrupts the digestive system and increases the likelihood of emotional eating. You're more likely to eat high-calorie foods when you're stressed, causing you to pack on the pounds. A study published in the "International Journal of Neuroscience" also found massage decreases the level of cortisol, which is linked to weight gain, and increases the presence of feel-good hormones serotonin and dopamine. When your mood is positive, you'll have more motivation to stick to a weight-loss plan and resist stress eating.
Massage and Exercise Performance
You have to burn calories to lose weight, and this is usually done through an exercise program. Massage helps speed the recovery of achy muscles, meaning you can exercise at higher intensity more often, resulting in more calories burned. Regular massage may also help prevent injury by reducing muscle tension and increasing your range of motion, meaning you're less likely to be sidelined from regular exercise. The American Massage Therapy Association recommends massage for individuals who want to reach their fitness potential, improve their conditioning and recover faster.
Finding a Massage Therapist
Massage therapy typically provides a safe way to enhance your well-being. But it's important to find a licensed massaged therapist, especially if you're nursing an injury or suffering from chronic pain. Make sure your therapist is nationally certified through organizations such as the American Massage Therapy Association or the National Certification Board for Therapeutic Massage and Bodywork. Ask your friends or family for references to help narrow your search.