Coconut oil has garnered a bad reputation, while research praises olive oil for its heart-healthy benefits. This is because coconut oil is high in saturated fat, and olive oil is rich in monounsaturated fatty acids, which lower cholesterol. Some research has revealed that coconut oil could support your immune function and help you lose weight. Because each oil has a certain value, together they could support a healthy diet and allow you to reap their nutritional benefits.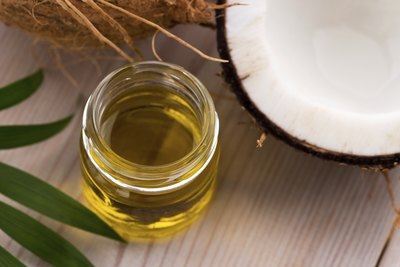 Nutritional Comparison
A 1-tablespoon serving of olive oil or coconut oil contains 120 calories and 14 grams of fat. Of the 14 grams of fat, olive oil only contains 1 gram of saturated fat, while coconut oil has 12 grams. The American Heart Association recommends that 25 percent to 35 percent of the calories in your diet come from unsaturated sources, such as olive oil. The association also recommends that less than 7 percent of your daily calories come from saturated fat, such as coconut oil.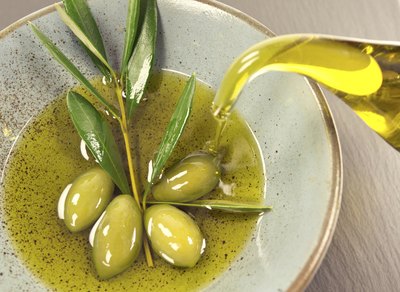 Saturated Fat vs. Unsaturated Fat
A review published by the "American Journal of Clinical Nutrition" in 2010 analyzed 21 studies and determined there is no evidence that saturated fat leads to heart disease -- a common belief. The saturated fat in coconut oil can help improve your liver's health and boost your immunity. Olive oil, on the other hand, is a good source of monounsaturated fatty acids, which help lower cholesterol and blood pressure and may prevent certain cancers.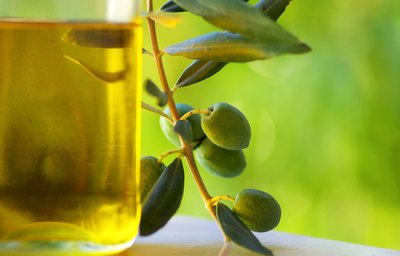 Losing Weight
Coconut oil is the richest natural source of medium-chain fatty acids. A study published in the the "Journal of the American College of Nutrition" in 2008 compared the effect of medium-chain triglyceride oil and olive oil as part of a weight-loss diet. The results of the study showed that after four months, weight loss was greater in the group consuming MCT oil when compared to the participants who consumed olive oil.
Olive and Coconut Oil Uses
Based on a 2,000-calorie diet, consuming 2 tablespoons of coconut oil gives you the recommended daily intake for saturated fat, and about 6 tablespoons of olive oil would give you the recommended daily intake for unsaturated fat. Virgin coconut oil has a higher smoke point than virgin olive oil and is more suited for cooking. Olive oil can be used for medium-heat cooking, such as sautéing vegetables; however, it is best suited as a dressing for salads or a dipping for bread.