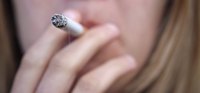 Nearly a fifth of Americans over the age of 18 smoked cigarettes in 2012, but those with this unhealthy habit often have to make concessions upon checking in to a hotel. (See Reference 1) Although some hotels have smoking rooms, many others are entirely smoke-free. Lighting up in your room puts you at risk of having a significant charge added to your bill.
Check In and Butt Out
In 2005, the Westin hotel chain became the first hotel organization to completely ban smoking in its North American properties. Marriott followed suit in 2006, banning smoking at all the hotels in its North American portfolio. However, many other brands do not have brand-wide no-smoking policies. At these hotels, rather, there are a set number of rooms are designed for those who do not smoke. Before booking your hotel, double-check its smoking policy -- Some hotels charge up to a cleaning fee of $250 if you're caught smoking in your room.