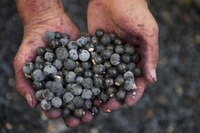 The acai berry diet involves including the acai berry as fruit, juice or, more commonly, as a supplement. Proponents claim this fruit helps with weight loss and as an arthritis remedy, but these claims can't be substantiated. Using acai during breast-feeding is not recommended as this has not been determined to be a safe product. Talk to your health care provider before taking any supplements while breast-feeding.
Losing Weight Safely While Breast-feeding
Breast-feeding experts recommend waiting at least two months before trying to lose weight to allow your body time to recover and establish a good milk supply. Continuing to make healthy food choices can help with weight loss. Aim to eat at least five or more servings of fruits and vegetables daily as these help replenish nutrients as well as provide you with fiber to feel fuller with fewer calories. Build up to 30 or more minutes of exercise daily starting with small 10-minute intervals once your doctor approves regular activity.