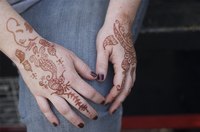 Henna tattoos are a kind of temporary body art involving a dye paste applied to skin which leaves behind a reddish-brown color. It is traditionally applied to women's hands and feet for religious ceremony, weddings and other celebrations. The concept and tradition of dyeing skin with henna originated in the Middle East and southern Asia, but has become an increasingly popular practice in the western world and the United States since the 1990s.
Significance
According to HennaTattoos.com, Henna, as it is known in the Middle East and the Northern parts of Africa, is also called Mendhi in Pakistan and India. Women tattooing one another with henna is a practice that has endured for hundreds of years in the eastern part of the world, and is traditionally used to decorate the hands and feet as a body adornment for weddings and other religious festivals.
History
Henna was used in Ancient Egyptian times according to HennaTattoos.com, and there have been traces of the dye found on the nails of various mummified Pharoahs, leading to the belief that Henna dye in ancient Egypt was a symbol of prosperity and status, and was sometimes used to increase good fortune and ward off bad luck. Since then, the use of henna as a tattooing agent has been almost exclusively used by women.
Procedure
Henna is made from a powder of crushed leaves, which is then mixed into a paste and applied to the body with a small brush. The leaves of the henna plant come from a plant called Lawsonia Inermis, which that is indigenous to hot, dry climates. To create the powder, the leaves are air-dried away from sunlight. After drying, the leaves are ground into a fine powder.
According to Iloveindia.com, henna tattoos are created by applying a paste to the skin. The paste is made using tea leaves, eucalyptus oil, henna powder and water. Ideally, the henna paste should remain on the skin overnight to maximize the effectiveness of the dyeing agent. A glaze of lemon juice and sugar can help to preserve the tattoo, allowing it to remain on the skin for as long as 3 weeks.
Geography
According to www.karwachauth.com, the designs used in henna tattoos vary greatly between geographic regions. Different designs have different meanings in each culture, but designs with themes such as good health, fertility and enlightenment are very popular. Traditionally, Arabic henna tattoos take the form of large-scale floral designs, whereas Indian Henna tattoos are usually made of delicate, thin lines and patterns that cover the hand and forearm. The designs are based on simple shapes and line drawings that can be linked together to create intricate and detailed patterns on the hands and feet.
Prevention/Solution
According to HennaTattoos.com, it is important to avoid exposing the tattoo to direct sunlight while the paste is still on.To ensure that your tattoo lasts as long as possible, avoid wetting it for the first 12 hours after it has been applied. When you are in the shower or in the bathtub, try to gently clean the area with water and mild soap instead of using an exfoliating wash or loofah sponge which could wear away at the dye, causing your tattoo to fade.