The history of Enron falls into two distinct parts. The first act was the rise of a company that mastered, for a brief while, the "new economy" of the Information Age; the second act contained a spectacular fall from wealth and power, a cautionary tale full of accounting scandals and corporate malfeasance. Understanding the history of Enron gives clues to the complexity of modern trading markets and underscores the importance of ethical behavior in business.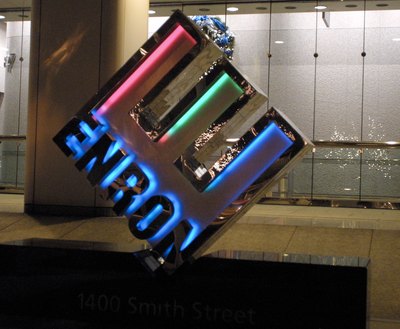 Origins
Enron was formed in 1985 by Kenneth Lay. Lay merged his company, Houston Natural Gas, with Omaha, Nebraska's InterNorth to form Enron. Lay was Enron's CEO. In addition to traditional sales and transportation of natural gas, Enron, under Lay's direction, bought into futures markets. The 1980s had seen considerable deregulation of energy markets under Ronald Reagan's presidency; this allowed Enron and other futures players to buy and sell energy futures, or contracts for delivery at a future date. The company relocated its headquarters from Omaha to Houston in 1986.
Innovations
Kenneth Lay brought former consultant Jeffery Skilling to join Enron in 1990. Skilling would eventually become Enron's chief operating officer; his focus was on moving Enron's business from old ways of doing business--the physical building of power plants, for instance--to a largely information-based business model. Under Skilling's plan, therefore, Enron became heavily focused on contracts for delivery of energy, as well as selling pieces of those contracts as "derivatives," matching big suppliers with smaller customers.
Skilling next lead Enron, in conjunction with the company's accounting firm Arthur Andersen, to request permission to change accounting procedures. Skilling lobbied the Securities and Exchange Commission to allow Enron to use "mark-to-market" accounting, which would permit Enron to account for profits from long-term contracts in the first year of the contract. Enron history author Malcom S. Salter explains that Enron was thus the first nonfinancial company to be permitted to use the mark-to-market method. Gas prices would stabilize, further cementing Enron's appearance as a crucial firm.
Difficulties
Despite its reputation as a corporate juggernaut, Enron had various difficulties that preceded the scandals to come. Although the biggest natural gas company in the United States by 1992, Enron's focus on trading obscured the fact that its trading division was not making a profit.
To compound matters, Chief Financial Officer Andrew Fastow had created separate business entities that were not reflected in the main company's financial statements. Despite auditing Enron's books, Arthur Andersen did not disclose this fact to investors at the time. The result was that an extremely successful-looking company was, in reality, going broke.
Scandal
Enron's situation quickly deteriorated at the end of 2001. Because of a lack of revenues, the company was forced to access a line of credit of $3 billion. Credit ratings agencies caught wind of this and downgraded the company's debt ratings; creditors, fearing they might not get paid in event of an Enron bankruptcy, increased Enron's debt payment schedules. On Dec. 2, 2001, Enron filed for bankruptcy, laying off thousands of workers in the process.
In and of itself, the bankruptcy would not have been scandalous. Yet disturbing revelations began to surface. Andrew Fastow, who had been fired in October 2001, had hidden millions in debt in Enron's partnership companies. In March 2002, Arthur Andersen would be indicted by the U.S. Justice Department for destroying documentation of Enron's malfeasance; the accounting firm was convicted in June of the same year.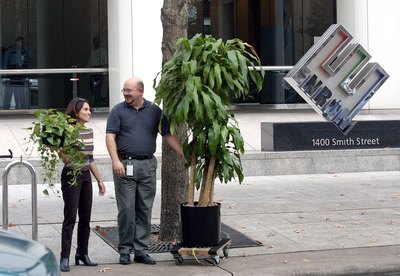 Aftermath
Although the initial scandal at Enron focused on accounting officers, it was soon revealed that the conspiracy to fool investors went to the very top of the organization. Kenneth Lay and Jeffrey Skilling were both indicted in 2004 on financial conspiracy charges; Enron accountant Richard Causey agreed to testify against the two Enron chiefs in exchange for Causey's own reduced sentence for his role in the matter. In 2006, Lay and Skilling were convicted of conspiracy and fraud charges. Lay passed away from heart disease in July 2006. That October, Skilling was sentenced to 24 years, four months in prison.
In 2004, Enron emerged from bankruptcy court as Enron Creditors Recovery Corp., charged with reorganizing and liquidating assets to help repay Enron's creditors.