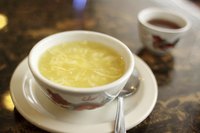 It can be hard to find healthy options when eating out or getting takeout. One of the healthier choices for starters from Chinese restaurants is egg drop soup. This soup is still high in sodium and cholesterol, however, so it should be an occasional indulgence only.
Calories, Carbs, Fat and Protein
Each cup of egg drop soup has about 65 calories, making it lower in calories than either wonton soup, with 71 calories per cup, or hot and sour soup, with 91 calories per cup. This serving of egg drop soup provides about 10 grams of carbohydrates, a gram of fat and 3 grams of protein. Both wonton and hot and sour soup have more protein than egg drop soup. Wonton soup is lower in fat, but hot and sour soup has almost twice the fat of egg drop soup.
Vitamins and Minerals
You won't meet many of your vitamin and mineral needs with egg drop soup. It provides only small amounts of these essential nutrients, with the exception of vitamin C. Each cup of egg drop soup gives you 25 percent of the daily value for this essential vitamin, which helps keep the tissues in your body, including your skin, healthy. Getting plenty of vitamin C in your diet may also help lower your risk for high blood pressure, heart disease, cancer and arthritis, according to the University of Maryland Medical Center.
Sodium and Cholesterol Content
The main drawbacks to eating egg drop soup are its sodium and cholesterol content. Each cup has 37 percent of the DV for sodium and 18 percent of the DV for cholesterol. Getting too much sodium in your diet, as most Americans do, can increase your risk for high blood pressure and heart disease. Although dietary cholesterol only has a small effect on your blood cholesterol levels compared to other dietary factors, such as the amount of saturated fat you eat, you should still limit your daily cholesterol intake to keep your risk for high cholesterol and heart disease as low as possible.
Making It Healthier
You can't do much to limit the cholesterol in egg drop soup because this comes mainly from the eggs. You can, however, make the soup more nutritious if you make it yourself and limit the amount of salt you add while increasing the vegetable content. Including shrimp or chicken in the recipe will help you get more protein, but will increase the cholesterol content somewhat, depending on how much of these ingredients you put in your soup.