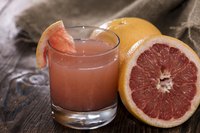 You're probably aware that most plant-based foods are healthy choices because they contain vitamins, minerals and dietary fiber. But these foods also provide many different phytonutrients that have potentially significant health benefits. One of these natural compounds, called rutin or rutinoside, is especially high in citrus fruits, tea and buckwheat seeds. Some preliminary research suggests that rutin, which is sometimes called citrus bioflavonoid, might benefit your blood vessels and also lower your risk of some chronic disorders.
Promoting Blood Vessel Health
Rutin may improve the health of blood vessels, possibly by inhibiting aggregation of platelets, thinning blood and preventing clots, effects that could lower your risk of atherosclerosis. Research suggests that rutin could also be helpful for people with veins that tend to leak and swell, a condition called venous insufficiency. Results of a five-year study published in 2008 in "Angiology" found that subjects with this condition who took rutin had significant improvement in their condition and experienced fewer complications, compared to a placebo group. A paper published in the January 2007 issue of "The Cochrance Database of Systematic Reviews" found that pregnant women who took rutin experienced improvement in their varicose veins, but the trial was small and the authors concluded that more work was needed to confirm this benefit.
Helping Lower Blood Cholesterol
Rutin has strong antioxidant activity, according to a review paper published in the August 2013 issue of "Expert Opinion on Investigative Drugs." Antioxidants help rid your body of free radicals, which are unstable molecules that form during digestion, in your skin when you're in sunlight, and in your organs when you're exposed to toxins such as cigarette smoke. Over time, free radicals can damage cellular membranes and DNA, raising your risk of heart disease and other disorders, problems that rutin might help prevent. Rutin supplements helped lower cholesterol levels in rats, according to a study published in the journal "Basic & Clinical Pharmacology & Toxicology" in 2009. However, additional research on humans is needed.
Cancer Studies
Laboratory research suggests that rutin may be useful in preventing or treating cancer. According to a paper published in 2013 in "The Scientific World Journal," rutin stops the growth of cultured cancer cells that cause neuroblastoma, a neurological cancer, by causing them to die through a process called apoptosis. Rutin also slows the growth of human leukemia cells transplanted into laboratory animals, according to a paper published in the August 2012 issue of "Environmental Toxicology." These results are promising, but they need to be confirmed in cancer studies on humans.
Taking Supplements
You can increase your intake of rutin by adding citrus fruits and other foods that contain the compound to your diet. Rutin supplements are also available from health-food stores, either as tablets or capsules, though no minimum effective dose of rutin has been identified. Although they are generally safe, rutin supplements might cause hives or itchiness if you're allergic to citrus fruits or other rutin-rich foods. Talk to your doctor to decide if rutin is right for you.