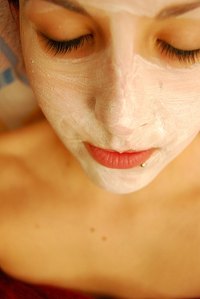 Clogged pores on your chin are annoying and seemingly impossible to get rid of. Blackheads seem to go hand in hand with oily skin, and doing simple things such as making sure you're washing properly and using a scrub once a week can help ensure that you keep the clogged pores on your chin to a minimum.
Cleanse Correctly
One of the major causes of clogged pores on the chin is when soap residue gathers on the skin when it's not washed off completely. When you wash your face, massage your face and chin with a mild soap and warm water for 30 seconds. When you are finished rinsing, make sure that all the lather has been washed away. Finish with a splash of cool water to close the pores. After rinsing, pat your chin dry with the towel instead of rubbing and irritating the skin.
Pick a Scrub
A great way to reduce the amount of clogged pores on your chin is to invest in a quality scrub. Scrubs contain tiny, exfoliating beads that deeply clean your pores and strip away excess skin cells. Because scrubs are a bit harsher on the skin than regular cleansers, only use them once a week to keep your skin glowing and looking healthy. Get a scrub that is specifically designed for your skin type, whether it's oily, dry or combination. While washing your face, rub a bit of the scrub in small circles on your chin for 20 seconds before rinsing as usual.
Resist Squeezing and Over-Washing
It can be tempting, but don't squeeze the clogged pores on your chin. Your fingers contain a lot of natural oils, and trying to pop your blackheads will only spread the oils around and push them deeper into your pores. Instead, try investing in a blackhead-friendly concealer that will help hide the clogged pores and use medicine to help heal them at the same time. Another thing to avoid is over-washing. It may seem logical to cleanse as much as possible to eliminate oils, but doing so also strips away good oils. Leaving your face without its natural balance of oils can cause it to overproduce more, creating an irritated and oily face.
Home Remedies To Try
There are many home remedies that can help fend off clogged pores on the chin. One of the most effective of these is to make a paste with radish seeds and water and apply it to your chin, washing it off completely after it dries. Another remedy is to combine equal amounts of groundnut oil and lime juice and rub this all over the chin before cleansing as usual.
If Nothing Works
If nothing you try is helping eliminate the clogged pores on your chin, you may have a more severe case of acne that will only go away with the help of specially formulated medicines prescribed by a dermatologist. Dermatologists can evaluate your skin to figure out the best type of solution for you, from monthly facials to prescribed topical gels and pills.