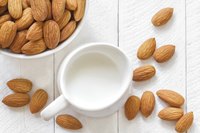 With so many plant-based milk alternatives to choose from, you may wonder which makes the best choice. Rice milk and almond milk are two types of milk alternatives you may consider, and one can be substituted for the other for drinking and even cooking, depending on what you're making. The two beverages have many similarities, but knowing the differences may help you decide if either or both make a good fit for you.
Comparing Nutritional Profile
When it comes to calories and carbohydrates, rice and almond milk have significant differences. An 8-ounce serving of original rice milk contains 120 calories and 23 grams of carbs, while the same serving of original almond milk contains 60 calories and 8 grams of carbs. The rice milk has twice as many calories and three times the amount of carbs as almond milk.
However, their fat and protein content are the same, with 2.5 grams of total fat and 1 gram of protein per 8-ounce serving. Neither milk alternative is a good source of protein, especially when compared to cow's milk, which has 8 grams of protein in an 8-ounce serving. While most Americans aren't deficient in protein, according to the Centers for Disease Control and Prevention, if you're not getting any protein from your plant-milk, it's important to include other healthy sources such as poultry, seafood, beans, nuts and seeds.
Closer Look at Micronutrients
To more closely resemble cow's milk, both rice and almond milk are fortified with calcium, vitamin A and vitamin D. You may even be able to find some brands of rice milk fortified with vitamin B-12. The amount of each nutrient found in either milk may vary depending on the manufacturer. In general, calcium is at least 30 percent of the daily value, vitamin A about 10 percent of the daily value and vitamin D around 25 percent of the daily value.
However, what makes almond milk stand out from rice milk is that it's a natural source of vitamin E, containing around 50 percent of the DV in a 1-cup serving. As an antioxidant, vitamin E protects cells from free radical damage, which may play a role in helping prevent certain types of cancer and heart disease.
One or the Other
If you're looking to replace cow's milk with rice or almond milk because of an allergy or intolerance, either milk fits the bill. For calorie and carb counters, the almond milk is a better choice.
While both almond and rice milk contain a small amount of fat, it's all healthy unsaturated fat. And, unlike certain types of milk, such as low-fat or whole milk, both rice and almond milk are free of saturated fat and cholesterol.
Additionally, taste may also play a role in milk choice. If you're looking for a mild-flavored milk, rice milk may work for you. Almond milk has a nutty flavor. For example, if you're making a cream soup rice milk may work better, while almond milk may add a nice flavor to a smoothie.
Things to Consider
While both rice and almond milk make good substitutes for cow's milk, they may contain added ingredients you wouldn't find in cow's milk. Carageenan, for example, is a thickening agent added to some plant-based milks that may be carcinogenic. Neither milk should ever be used as an infant formula.