Pink eye can be an unpleasant affliction for anybody, whether a small child or grown adult. Treatments of pink eye can vary from over-the-counter medications to doctor prescribed antibiotics. Next time you come down with a case, make sure you know all the treatments available and how to treat it.
Types of Pink Eye
Before you can understand how to treat pink eye, it's important to know a little bit about pink eye and the different causes of it. Pink eye can be brought on in a few ways, the first being a bacterial infection when certain bacteria come in contact with the eye in one way or another. The other cause of pink eye can be a virus, sometimes on its own or in relation to an illness like the flu. The final common cause is allergy-related pink eye. No matter what the cause though, pink eye in any form carries with it similar symptoms of redness of the eye, a watery discharge and excess of tears, swollen eyes and itching in the eye.
Antibiotics
The first type of treatment for pink eye is used when the affliction is bacterially caused. This treatment is a prescription of antibiotic eye drops, and steroids in some cases, by your doctor. These drops usually will help clear up pink eye in as fast as 24 hours to a couple of days. When pink eye is caused by bacteria, a person must receive antibiotic treatment for at least 24 hours prior to returning to work, school or other social daily activities, in order to ensure that the infection is not spread.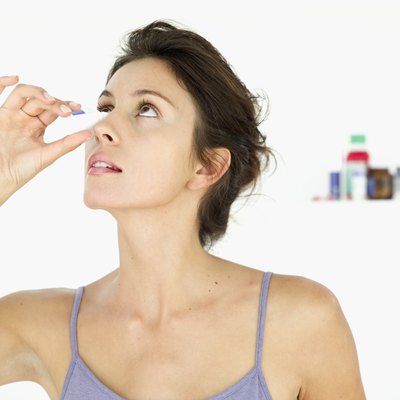 Drops and Compresses
If your pink eye is caused by a virus, then the most a person can do is wait out the infection, which can take up to 10 days. However, while there is no cure for a virus-caused pink eye, there are treatments available to help alleviate symptoms while waiting for it to go away. These treatments can include over-the-counter eye drops that can aid in tear production and keep the eye moisturized to help with irritation and drainage. Another recommended treatment is hot compresses that can help with swelling and redness. When using a compress though, insure you always use a clean one and throw it away or wash it when done, to insure you don't further the infection.
Allergy Medication
Pink eye caused by allergies can be treated with a number of medications. First, it's recommended that a person with allergy-related pink eye take medication, such as antihistamines or in serious cases prescription allergy medication, to treat the initial source of the pink eye. Much like viral pink eye, a person can also use compresses, hot or cold, to treat any irritation or swelling as well as over-the-counter drops for redness or dryness.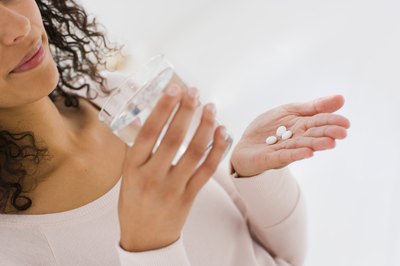 Warnings
If your pink eye is caused by bacteria or a virus, make sure you prevent further spread by washing hands constantly, throwing away or washing cloths or objects that have come in contact with the eye and removing excess drainage. If pink eye persists for more than a few days, symptoms worsen, or pain increases, see your doctor immediately as this could be a sign of a worsening infection or more serious health issue. Always talk to your doctor or pharmacist before beginning use of any medication, as they may be able to help you find the one that's right for you, and can inform you on the proper use for the medication.