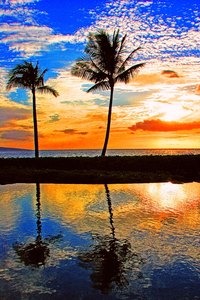 Maui is the second largest of the Hawaiian Islands. Located in Polynesian waters, it is considered one of the most remote locations in the world. Maui is made up of two volcanoes that erupted long ago. Years of erosion joined them into one island, lending Maui the nickname "The Valley Isle." It is 727.3 square miles with 120 miles of coastline--paradise on Earth. The possibilities are endless for singles traveling to Maui. Depending on your length of stay, it could be overwhelming trying to figure out how to see all the sights and activities Maui has to offer. There are many overlooked activities and places of interest singles of all ages can enjoy.
Accommodations
Rates for accommodations run highest in December and January. The peak season runs from mid-December to mid-April, and you should book your reservations as far in advance as possible. Off-peak seasons are fall and spring, your best bet for cheaper rates. Maui has any number of resorts to choose from and most offer all-inclusive vacation packages. But for adventurous singles, do-it-yourself is the way to go. One place of interest might be Old Lahaina House, located in the residential side of Lahaina. It has a tropical garden with a pool and is only minutes from the beach. In off-peak seasons rooms start at $99 and cottages from $250. There is a three day minimum stay with a 50 percent deposit required to place a reservation. The rooms are clean and accommodating, including a microwave and coffee maker, perfect for singles, whether alone or as a group. Old Lahaina House will also book activities for you at no extra cost.
Old Lahaina House 407 Ilikahi Street Lahaina, Maui, HI 96761 (800) 847-0761 www.oldlahaina.com
Sightseeing
Aside from the obvious activities such as snorkeling, scuba diving, surfing, parasailing and whale watching, Maui has so much to offer singles who are looking for anything from adventure to quiet solitude. Renting a bicycle to tour the island is one way to drink it all in. Maui has numerous waterfalls and picturesque scenery, biking is a sure way not to miss a thing. For a more relaxing afternoon, visit The Sacred Garden of Maliko, located in Makawao. Admission is free to this nursery and healing sanctuary. It offers a 10,000 square foot greenhouse with astonishing orchids and tropical pleasures. There is a Buddah garden, a shrine room, water ponds, plants and two walkable labyrinths.
The Sacred Garden of Maliko 460 Kaluanui Road Makawao, Maui, HI 96768 (808) 573-7700 www.sacredgardenmaui.com
Dining
When you think of Maui, you sure don't think of Italian food, but there is a restaurant in Kihei that single travelers shouldn't pass by--Gian Don's Italian Bistro. Serving breakfast, lunch and dinner, the menu is affordable and tasty. But what is most attractive about Gian Don's is the nightlife. Singles will enjoy the atmosphere, with music and dancing. The late night club is open on Fridays and Saturdays only and it is well worth checking out.
Gian Don's Italian Bistro 1445 South Kihei Road Kihei, Maui, HI 96753 (808) 874-4041 www.giandons.com
Activities
If you're looking for something off the beaten path and happen to be in Maui on the third weekend of any month, (except May, when schedule differs) Maui Raceway Park is the place to be. It features NHRA drag racing.
Maui Raceway Park PO Box 6020 Kahului, Maui, HI 96733 (808) 281-1273 www.mrp.org
Misconceptions
Maui is not the singles' paradise it once was. The nightlife in some parts of the island are nonexistent, with businesses rolling up the sidewalks by 11 p.m. However, even though Maui is more family oriented, the singles scene is still booming if you know where to look. Hard Rock Café` and Moose McGillycuddy's are two favorite night spots for singles, and once there, you will find local insider information as to the other goings-on about town.