Acne is a common problem among teens and adults alike. Acne can be genetic, can be caused by skin that is too oily or even by the foods that you eat. Having acne is no walk in the park. It can cause low self-esteem, irritation and even pain. The answer to getting rid of acne is changing your diet in order to help release toxins and prevent inflammation under the skin.
Fruits and Vegetables
The vitamins that are found in fruits and vegetables can help reduce acne by providing the body with nutrients needed in order to release toxins and fight off infection. Many fruits and vegetables also contain antioxidants that may help heal skin problems. The fibers contained in the peel of the potato and in green vegetables can help with digestion in order to eliminate toxins found in the body that may trigger an acne breakout.
Red peppers, tomatoes, apples and watermelon can help aid in healthy blood circulation. Healthy circulation is vital for skin health, especially for those who have trouble with acne or blemishes. Oranges, carrots and squash contain antioxidants that help with skin related issues like acne, blemishes and even blotchy red patches. Bananas, pineapples and peaches can help clear the liver of toxins and promote healthy skin. Avocados, celery, lettuce and spinach can help clean the blood.
Fruits high in vitamin A such as carrots, sweet potatoes, greens and apricots also contain nutrients that can help clear up acne.
Fats
Omega-3 fats can help aid in skin health. Foods such as sardines, tuna, salmon, walnuts, pecans, almonds, seed oils and soy beans contain large amounts of omega-3 fats. The omega-3 fatty acids help because they protect the heart and help aid in a healthy nervous system. Problems with circulation are often treated with omega-3 fats.
These fats also help to prevent inflammation in the skin, which is associated with acne breakouts. Studies have also shown that omega-3 fatty acids help to stop the production of too much sebum. Sebum is what causes pores to clog, which leads to inflammation and infection that could trigger an acne breakout.
Omega-6 fatty acids should be avoided when trying to prevent acne breakouts. Foods that contain omega-6 fats include corn oil, soybean oil and cottonseed oil. These can promote inflammation and cause an acne breakout. Foods high in saturated fats or hydrogenated fats should also be avoided. This includes almost all fast food, fried chicken, french fries, packaged foods such as cookies and crackers and even butter. Many dairy products contain saturated or hydrogenated fats that can promote an acne breakout.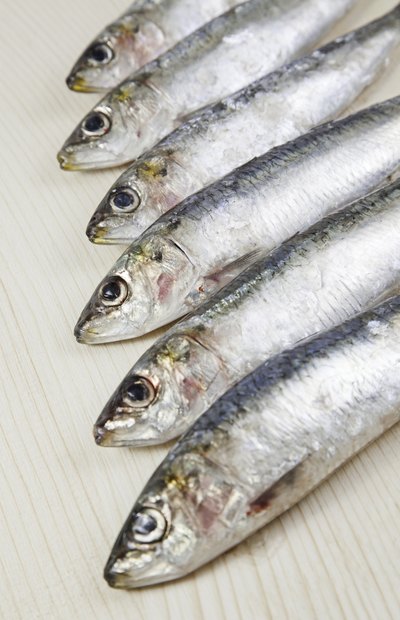 Antioxidant Rich Foods
Collagen can be damaged when there are too many unbalanced molecules in your body. Antioxidants help to destroy these unbalanced molecules. This helps to keep the elasticity of the skin and also provides the body with vitamins A, C and E and minerals that are important to healthy skin such as selenium and zinc.
Antioxidants help to create a barrier on the skin in order to stop free radicals (unbalanced molecules) from destroying the dermal layer of skin. Although antioxidants are good for the skin, about only 1 percent of antioxidants that are consumed orally reach the skin.
Vitamins A, C and E help to retain moisture in the skin in order to avoid acne and even wrinkles. Foods such as berries, purple grapes, broccoli, cherries, hazelnuts, peanut butter, avocados and peas are rich in antioxidants.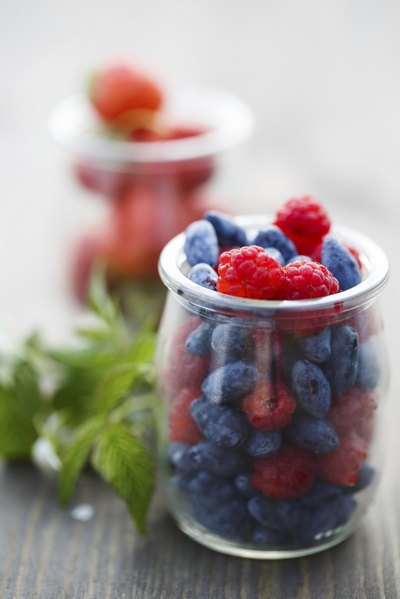 Fluids
Drink plenty of fluids, mainly water. Water should be consumed throughout the entire day. Eight glasses of water each day helps to keep the skin hydrated and also helps to move nutrients to different parts of the body. Water is extremely important because it also helps to flush the body of toxins that could play a part in acne breakouts. Water is considered the best way to treat acne because it helps promote clear, healthy and vibrant skin.
Try to avoid drinks that contain caffeine, such as coffee and soda. Limit your intake to only two caffeine beverages daily.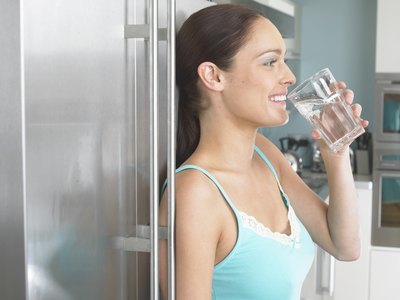 Foods to Avoid
Foods that cause acid build-up in the body should be avoided when your skin is prone to acne breakouts. These foods include dairy products such as milk, cheese and yogurt, as well as carbohydrates like flour, bread and rice. Some meats such as lamb, beef and pork also cause acid build-up in the body and may trigger an acne breakout. These foods are also known to cause the digestive tract to slow down, thus preventing the body from releasing toxins. The toxins will then expel themselves elsewhere, like through the skin.
Avoid foods that contain yeast such as beer, soy sauce, mushrooms and bread. People prone to acne breakouts usually have a build-up of yeast in their bodies. This can lead to infections and possibly slow the digestive system. Sugary foods such as candies and chocolate can do the same.