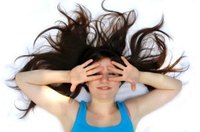 Growing a nice thick mane is certainly a goal of plenty of beauty-conscious men and women. But just like any beauty-related goal, there seems to be plenty of disinformation out there about how exactly to achieve optimum hair growth. Here are some common myths that have circulated about healthy hair growth.
Brushing is Good
Marsha Brady used to say that to keep her hair perfect, she would brush it exactly 100 strokes at a time. However, that was said in the 1960s, and nothing could be farther from the truth. In fact, nothing damages your hair more than brushing your hair too much. You should certainly bush out any tangles, but if you brush your hair more than you should, it can cause split ends and breakage, which will slow down hair growth rather than speed it up.
Tanning Causes Hair Loss
Although using a tanning bed occasionally or sitting in the sun periodically will not make your hair fall out, this myth actually has some factual basis. If you have a sunburn on your scalp, you can permanently damage your roots and severely inhibit hair growth. But regular tanning will not have this effect, so there is no need to worry about your hair growth slowing or stopping if you do a little bronzing.
Your Hair Will Always Grow at the Same Rate
Although hair grows 6 inches a year, on average, you cannot expect your hair growth rate to stay the same. Things like stress, environment and nutrition all affect your hair growth rate, and you may find the course of a year your hair can double its speed and then grind to a halt directly afterward. If you are trying to maintain a quick growth rate, try your best to eat healthy and cut stress. You will still see some fluctuation though, albeit minor.
Hair Growth Slows as it Gets Longer
This is another myth that does have some basis in reality. As your hair lengthens, growth speed may seem to taper off. However, this is not directly caused by your long locks, and is probably due to some split ends that need trimming. Split ends inhibit hair growth fairly severely, and the longer you go without a trim, the slower your hair will grow back. As long as you get those pesky ends cut off every few weeks, then you should have no problem keeping a fast hair growth rate while keeping your long style.
You Should Not Wash Your Hair Daily
Some say that the buildup of natural oils can assist in growing hairs; this could not be further from the truth. Though the buildup of natural oils can strengthen hair, it can also, in turn, clog the hair follicles from where your hair is produced and stop growth from occurring at all.