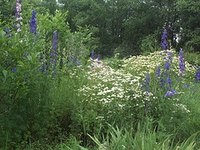 Through the centuries, the herbal supplement Feverfew has been used for its medicinal purposes. Feverfew is a perennial plant that is native to southeastern Europe. It is now grown around the world. The plant has been used as a natural treatment for common ailments such as fever and various skin conditions, as well as difficult childbirth.
Features
Feverfew grows into a shrub about 18 inches tall with yellow and white flowers similar to daisies. The flowers produce a citrus fragrance. The leaves are somewhat feathery, alluding to another name for the plant--featherfew. It is also referred to as "bachelor's buttons."
Uses
Feverfew has been used as an alternative treatment for migraine headaches, arthritis and rheumatism. The herb has also been used to promote menstruation. Feverfew is also used to treat asthma, allergies, dizziness, nausea and vomiting. Contrary to common belief, feverfew has shown no promise in reducing fevers, as its name would imply. Its most common use is in the treatment and prevention of migraines.
Effectiveness
The active ingredients in feverfew are parthenolide and tanetin, which can aid in the prevention of migraines by inhibiting certain chemicals such as serotonin and prostaglandins. Chiroweb.com states that a survey conducted in Great Britain in the 1980s showed that 70 percent of people that suffer from migraines experienced relief after consuming fresh feverfew leaves. According to the National Center for Complementary and Alternative Medicine, some research indicates that feverfew may be beneficial in the prevention of migraine headaches. Most studies have produced mixed results; therefore, more evidence is needed.
Dosage
Feverfew supplements can be found in capsule, tablet and liquid form. The fresh leaves are also sometimes consumed directly. Recommended supplements usually contain 250 mcg of parthenolide. It may be necessary to take a feverfew supplement for 4 to 6 weeks for it to be effective against migraines.
Side Effects
No serious side effects have been associated with feverfew; however, individuals may experience canker sores, especially when chewing the leaves. Swelling and/or irritation of the mouth and tongue may occur as well as loss of taste. Nausea, flatulence and mild gastrointestinal upset may also occur although these side effects are less common. If an individual stops taking feverfew after long-term use, symptoms such as nervousness, difficulty sleeping, headache and joint pain may result.
Contraindications
Pregnant women should not take feverfew, since it may cause uterine contractions. Do not give the herb to children under the age of two years old. Women who are nursing should avoid the herb as well, since it may pass through breast milk. People who take aspirin or any blood thinning medication should not take feverfew. People who suffer from ragweed and other allergies may be allergic to feverfew. If you are considering taking feverfew or any other herbal supplement, consult a qualified herbalist. If you are taking any medications for a health condition, consult your physician before taking feverfew or any other herbal supplement.