Most conscious eaters have heard about omega-3 fatty acids, one of the so-called "good fats." Far fewer, however, have heard of omega-6 fatty acids, an equally important topic. Omega-6 fats are not necessarily "bad," but they are so common in the postmodern American diet that many people consume them in quantities that could have negative health effects. Identifying the foods high in omega-6 fats is the first step toward lowering overall omega-6 consumption and balancing it with omega-3 intake.
Identification
There are nine omega-6 fatty acids that are essential, meaning they must be obtained from food. They are called omega-6 because of their chemical structure, which includes a double bond six carbon molecules from the end of the chain. Though some omega-6 fat is necessary, overconsumption has been associated with heart disease, asthma, cancer, arthritis and depression.
Primary Sources
Almost all of the omega-6 fatty acid in American diets comes from just a few oils that are popular for cooking. Sunflower, safflower, corn, cottonseed, walnut and soybean oil are all high in omega-6 fatty acid. Unfortunately these are commonly used oils and add omega-6 content where consumers might not expect it. In addition to these oils, eggs, meat and fish are also primary sources of omega-6.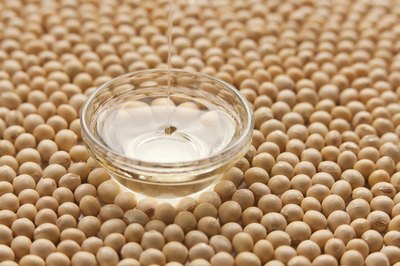 Secondary Sources
A secondary source of omega-6 is a food that doesn't naturally contain much of this type of fat, but has been cooked in or prepared with one of the primary sources. Most processed food, including many supposed "health foods," contain safflower, soybean and other omega-6 oils. A perfect example is mayonnaise, which, if made with soybean oil, contains about 5 g, roughly three-fourths of the daily recommended intake, of omega-6 in a single tablespoon. Some commercial granola products also use oils high in omega-6.
Processed Foods
The greatest source of omega-6 fats in the American diet is fast food and processed foods. Commercial fried foods, even if they are low in trans fat, are still likely to contain high levels of omega-6. Anything with meat or fish will naturally contain some omega-6, but if it is cooked or fried in a primary source oil, it will be very high in omega-6 content. Frozen foods, even vegetarian options like veggie patties and soy dogs, can be deceptively high in omega-6 fats because of their use of primary source oils.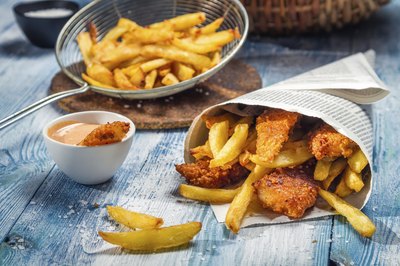 Omega-6:Omega-3 Ratio
Though there is a recommended daily intake of omega-6 fatty acids--about 7 g--food scientists suggest a better way to gauge omega-6 intake is in proportion to intake of omega-3 fatty acids. Historically, human diets have contained roughly equal omega-3 and omega-6 fats. In the body, these two types of fat work together inseparably, so an imbalance leads to problems. Today, people eat 10 to 30 times as much omega-6 as omega-3, and this is believed to increase the risk for several diseases. Researchers believe a ratio of 4:1 omega-6 to omega-3 or lower is necessary to maintain optimal health.