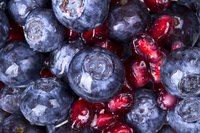 Loaded with antioxidants, phytonutrients and naturally sweet flavor, pomegranate blueberry juice adds nutritional value to your diet. Like any juice, however, it's relatively high in calories and not as filling as simply eating whole fruit. Enjoy it in moderation to boost your health without expanding your waistline.
Basic Nutrition Information
Like most juices, blueberry pomegranate juice serves as a significant source of calories. Each 1-cup serving of fresh juice -- made up of half blueberry juice and half pomegranate juice -- contains roughly 200 calories, or 10 percent of the recommended daily intake in a 2,000-calorie diet. That's slightly more than store-bought bottled pomegranate juice, which contains 134 calories per cup. Though blueberry pomegranate juice contains a small amount of protein, most of its calories come from natural sugars, and each cup of juice contains 35 grams of natural sugar.
If you want to reduce your calorie intake when drinking blueberry-pomegranate juice, dilute the fresh juice with plain or sparkling water.
Vitamins and Minerals
Drinking blueberry pomegranate juice ups your intake of key nutrients, especially vitamin K and potassium. A heart-healthy mineral, potassium protects you from high blood pressure and cardiovascular disease, and it's also involved in nerve function. A cup of blueberry pomegranate juice offers 467 milligrams of potassium, or roughly 10 percent of your daily needs. That's a little less than store-bought pomegranate juice, which contains 533 milligrams of potassium.
Pomegranate blueberry juice also comes loaded with vitamin K, a nutrient involved in bone health and blood clotting. Each serving of juice contains 52 micrograms of vitamin K. That's almost 60 percent of the daily needs for women and around 40 percent for men, and twice the amount of vitamin K found in store-bought pomegranate juice.
Beneficial Phytonutrients
Drink blueberry pomegranate juice and you'll load up on polyphenols, including anthocyanins, a family of antioxidants that gives pomegranates and blueberries their red-purple color. These antioxidants offer heart-healthy benefits, including lower cholesterol and protection against high blood pressure, explains registered dietitian Jill Taufer, writing for the University of Florida Extension.
Juice vs. Whole Fruit
Simply eating pomegranate arils and blueberries offers all the same benefits as the juice, plus you'll get dietary fiber. Mix 1/2 cup of pomegranate arils and 1/2 cup of blueberries in a bowl, and you'll get 5 grams of beneficial dietary fiber. Fiber slows the rate that food leaves your stomach, so you're more likely to feel full for longer after your meal. Use pomegranate and blueberries to add antioxidants and vitamins to Greek yogurt, cereals or salads.