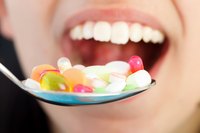 Your thyroid gland requires iodine to make hormones, and inadequate amounts in the body can lead to infertility in women, an enlarged thyroid and thyroid cancer. Few foods naturally contain this essential nutrient, so iodine is added to table salt, which is widely available in the United States. If you don't consume enough iodine and choose to take a supplement, follow the recommended dosage to avoid unwanted health consequences.
Common Side Effects
The most prevalent side effects of too much iodine are unpleasant but relatively harmless if addressed immediately. They include nausea and stomach pain, runny nose, headache, diarrhea and a metallic taste in your mouth. If you continue to take iodine supplements, MedlinePlus states you may experience soreness in your teeth and gums, burning in your throat and mouth, increased saliva, throat inflammation, upset stomach, wasting, depression and skin problems.
Onset of Goiter
Taking too much iodine blocks the synthesis of thyroid hormone, causing low thyroid levels, or hypothyroidism. Your thyroid gland will be overtaxed if you have hypothyroidism, causing the gland to enlarge and produce a bulge on your neck known as a goiter. Excessive iodine intake can also lead to Graves' disease and Hashimoto's disease, an autoimmune disorder. Graves' disease causes a goiter and high thyroid levels. Hashimoto's disease also results in goiter as your immune system destroys your thyroid gland.
Thyroid Problems
The University of Maryland Medical Center recommends consulting your physician before taking an iodine supplement because overdosing can cause certain thyroid cancers or thyrotoxicosis. The latter is a harmful condition in which you have dangerous amounts of thyroid circulating in your bloodstream. The Office of Dietary Supplements also lists thyroiditis, or inflammation of the thyroid gland, as a side effect of too much iodine. This condition slowly destroys your thyroid cells, leading to fatigue, weight gain, constipation, dry skin, depression and exercise intolerance.
Recommended Intakes
The adequate intake of iodine set by the Institute of Medicine for adults is 150 micrograms per day. Pregnant women need 220 micrograms, while breast-feeding women should get 290. The highest amount that most likely won't produce side effects is set at 1,100 micrograms per day, a limit that includes pregnant and breast-feeding women. Sensitive individuals may experience adverse health consequences at lower doses. Side effects for these individuals include swelling in your lips and face, severe bleeding and bruising, fever, joint pain, enlarged lymph nodes, allergic reactions and death.