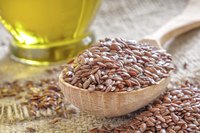 Flaxseed and fish oil supplements are both sources of omega-3 fatty acids, but they contain different types of omega-3s, which influences their benefits. Flaxseed supplement may also have other benefits, depending on whether your brand contains oil or seeds. While flaxseeds and fish oil are generally safe, they can interact with some medications, so talk to your health care provider before taking supplements.
Different Fatty Acids
Flaxseeds contain alpha-linolenic acid, or ALA, which is a type of omega-3 fatty acid found in plants. Your body can't produce ALA, so it's an essential part of your diet. Women need 1.1 grams of ALA daily, while men should consume 1.6 grams, recommends the Institute of Medicine.
Fish oil is a good source of two omega-3 fatty acids: eicosapentaenoic acid, or EPA, and docosahexaenoic acid, or DHA. An official daily intake for EPA and DHA has not yet been established, but several health organizations recommend consuming 250 milligrams to 500 milligrams of combined EPA and DHA daily, according to the "Journal of the Academy of Nutrition and Dietetics" in January 2014.
Role of ALA
Your body can turn ALA into EPA and DHA, but ALA competes with other fatty acids for the enzymes needed to make the conversion. As a result, about 5 percent to 15 percent of the ALA you consume converts into EPA and less than 1 percent becomes DHA, reports the "Journal of the Academy of Nutrition and Dietetics."
While the ALA in flaxseeds provides some of your daily EPA and DHA, you won't get nearly the amount you'd get from fish oil. Most of the ALA from flaxseeds is used to convert fatty acids into energy.
Benefits of EPA and DHA
EPA and DHA are best known for protecting the health of your heart and blood vessels. They have an anti-inflammatory effect that helps prevent hardening of the arteries. Fish oil also reduces blood levels of triglycerides and lowers cholesterol and blood pressure.
Consuming at least 250 milligrams of EPA and DHA may lower the risk of fatal heart disease by 36 percent, according to a review in the "American Journal of Clinical Nutrition" in June 2008.
The omega-3s from fish oil also form the structure of cell membranes, where they help regulate cellular functioning.
Fiber From Flax
Many flaxseed supplements only contain flaxseed oil, while other types come enriched with small pieces of flaxseed and other supplements primarily contain seeds. Flaxseeds contain fiber and lignans that aren't usually retained in oil.
Flaxseed fiber helps lower cholesterol and prevents constipation, while lignans are turned into estrogen-like compounds. Lignans may exert an estrogenic or anti-estrogenic effect depending on your normal estrogen levels.
Potential Side Effects
Flaxseed and fish oil supplements are both considered to be safe for most people, as long as you follow the directions and don't take large doses. This is especially important for fish oil supplements because they can increase the risk of bleeding if you take too much.
If you're pregnant or breastfeeding, don't take flaxseed supplements, because they may cause premature birth. Avoid fish oil supplements if you have a weak immune system or you're allergic to fish.
Both supplements have the potential to interact with prescription medications, especially anticoagulants and medications to lower blood pressure. Talk to your health care provider to be sure they're safe if you take any type of medication.