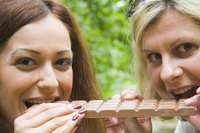 Theobromine is a bitter-tasting chemical found in some plants. A major dietary source of theobromine is chocolate, with greater amounts in dark chocolate. Tea, coffee and cola nut-flavored beverages as well as carob products also contain a small amount of theobromine.
Chocolate and Cocoa
Theobromine occurs naturally in the cacao plant, so it's found in largest amounts in products derived from it -- most notably chocolate, which is made from cocoa butter extracted from the cacao bean. Dark chocolate varieties contain a higher concentration of cocoa and therefore higher concentrations of theobromine.
Chocolate-Containing Foods
Any product made from cocoa will contain theobromine in varying amounts, with higher concentrations in the more pure forms. For example, a study by Craig and Nguyenin published in 2006 in the "Journal of Food Sciences" investigated the theobromine content of various foods and found an average of 1.5 milligrams per gram of theobromine in chocolatey bakery products, 2 milligrams per gram in chocolate toppings and 0.6 milligram per gram in chocolate ice cream.
Other Beverages
Theobromine, a metabolite of caffeine, is present in tea leaves. There are only trace amounts of theobromine in tea; caffeine and theophylline are present in greater concentrations. Similarly, coffee contains small amounts of theobromine. Small concentrations of theobromine are present in the cola nut, used in the past to flavor soft drinks. These beverages in general contribute very little to the amount of theobromine to the diet.
Carob
Carob comes from the edible pulp of a tropical carob tree and resembles chocolate when used in food products but yields a different taste and texture. Carob powder is added to many products, often as a replacement for cocoa powder. Products made with carob contain up to 0.5 milligram per gram of carob powder -- that's about 3 milligrams per tablespoon. Carob can be found in foods such as candy bars, cookies and ice cream.
Side Effects
Theobromine has stimulating effects similar to caffeine in the body, but to a lesser degree. Ingesting theobromine can reduce sleepiness and dilate blood vessels. A small portion of caffeine molecules break down into theobromine once ingested. If eaten in large amounts, such as from several servings of chocolate, it can produce a jittery feeling. Chocolate should not be given to dogs and cats, because small amounts of theobromine can be fatal for these pets. Even in people, theobromine can be toxic in large doses of more than a person would normally eat. The Royal Society of Chemistry states that upward of 5 kilograms of milk chocolate can be fatal in humans.