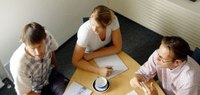 Developing an effective sales training program (for example, to introduce a new sales approach) involves creating activities that enable your sales team to role-play and practice selling skills in a non-threatening and constructive environment. You will be most successful if your top executives endorse your plan and sales managers are accountable for ensuring their sales people are using the new skills. In addition, managers must actively assess results.
Developing Process Knowledge
Most sales processes begin when leads are deemed worthy of follow-up. Then, contact with the customer is made. Proposals are generated and ideally offers are accepted. Finally, the sale is closed. To introduce the specifics of such a sales process, make a short presentation--about 10 minutes. Then ask participants to create a concept map. Start with the first process step and write it in the middle of a page. Instruct them to write down ideas about how to apply the process to their accounts. Next, make connections between the ideas and the process step. These branches can help them view the applicable possibilities. Repeat for the other process steps.
Developing Communication Skills
Effective selling involves asking the right questions at the right time using the right communication style (direct or indirect). Run a workshop and schedule a series of mock debates. Divide the group into pairs. One person from each pair promotes the advantages of the direct approach (easily understood) and the disadvantages of the indirect approach (ambiguity may be misinterpreted) while the other promotes the indirect approach advantages (may be considered sensitive and polite) and direct approach disadvantages (may be considered rude). Allow each participant 60 seconds to present his case. Remaining workshop participants provide feedback and vote on a winner for each pair.
Developing Persuasion Skills
To develop persuasion skills, run a workshop and ask participants to prepare five-minute customer presentations to sell a fictional product. Divide the group into pairs. Allow each participant five minutes to present her presentation and to persuade the other to agree that her ideas are better. Identify those pairs in which agreement is reached and showcase those techniques.
Developing Skills for Overcoming Objections
Practice overcoming objections by providing opportunities for sales teams to role-play responses to scenarios such as "we have had a bad experience with your service in the past" or "we need higher level approval for expenditure" or "we're happy with our current supplier." Encourage participants to ask questions like "could you please tell me why you think that way?"
Developing Skills to Close Sales
Closing a sale involves modifying behavior based on the current situation. Set up a workshop to help participants creatively respond to new situations. Ask participants to memorize a set of numbers you list. Ask volunteers to recite them. Then ask them to recite them in alphabetical order and note the difficulty of the second assignment.