Snacking on cashews straight from the bag can be a diet disaster. Although the nuts are packed with protein, vitamins, minerals and healthy fats, they are also high in calories. One cashew has about 9 calories, and a normal serving of cashews, which is 1 ounce, has 163 calories. One ounce of cashews is a sensible snack, but eating any more than that at one time can quickly put you over your calorie budget for the day and lead to weight gain.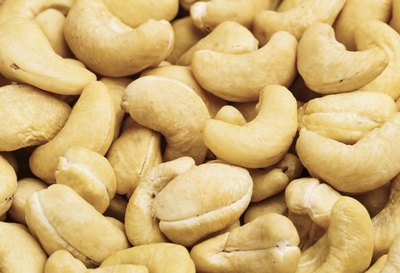 How Cashews Fit Into Your Diet
One ounce of cashews contains about 18 medium cashews, according to the Cleveland Clinic website. If that's all you eat for a snack in one sitting, and you eat a typical 2,000-calorie diet, the calories in that snack make up a little less than 10 percent of your diet. If you eat 2 or 3 ounces in one sitting, however, one snack of cashews can easily provide one-quarter to one-third of your daily calorie needs.
Eating Cashews Sensibly
Sprinkle a few cashews on your cereal in the morning for a dose of healthy fats. Purchase cashew halves or mash them into smaller pieces yourself so you can get a little bit of cashew in each bite without too many calories. You can also sprinkle cashews on salads and fish. Don't eat cashews straight out of the bag. Instead, measure out your serving, close the bag and put it back in the cupboard. You're less likely to overdo it that way.