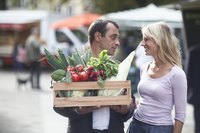 When it comes to choosing a diet to follow, the vegan diet makes a healthy choice. A vegan diet is a vegetarian diet that not only limits animal flesh, but also any foods made with animal products, including dairy, eggs and honey. Planned correctly, it not only helps you get better control of your weight but may also help improve blood pressure. Consult your doctor or dietitian before making any changes to your diet.
Vegetarian Diet and Blood Pressure
A 2014 review study published in JAMA Internal Medicine examined the association between blood pressure and a vegetarian diet and found a positive correlation between this diet and low blood pressure.
A vegetarian diet is rich in nutrients that lower blood pressure, including potassium, magnesium, healthy fats and fiber. These nutrients are also found in the vegan diet.
The decrease in blood pressure may also be due to weight. People who eat a vegetarian or vegan diet tend to be thinner than nonvegetarians, according to the Academy of Nutrition and Dietetics.
About the Vegan Diet
A healthy vegan diet is filled with fruits, vegetables, whole grains, legumes, nuts, seeds and healthy oils. The key to getting all the nutrients you need for good health in general and lower blood pressure in particular on a vegan diet is to include a variety of foods from each of these food groups.
Getting the Right Nutrients
The nutrients that help improve blood pressure include fiber, potassium, magnesium, protein and calcium.
For potassium and fiber, load up on fruits and vegetables. Beans are also a good source of potassium, as well as being rich in protein, magnesium and fiber. For calcium, include leafy greens and calcium-fortified orange juice. Fortified soy milk and tofu made with calcium citrate are also good sources of calcium and protein.
You also need to limit your intake of salt and foods high in sodium, such as condiments like soy sauce, canned beans and vegan processed foods such as potato chips. Ideally, you should limit your daily intake of sodium to 2,300 milligrams or less.
Sample Vegan Meal Plan
A healthy vegan breakfast for better blood pressure might include a bowl of oatmeal made with soy milk and topped with raisins and walnuts. A lunch meal might consist of a whole-wheat tortilla stuffed with pureed black beans and salsa served with soy yogurt, almonds and a banana.
For dinner, you might enjoy a stir-fry that includes calcium-rich tofu, broccoli, carrots and snow peas sauteed with ginger and garlic and seasoned with sesame oil served over brown rice. Snack on fresh fruit, cut-up vegetables with hummus or dried fruit and nut mix.