Found in concentrated amounts in the thyroid, iodine is an essential mineral necessary for the production of thyroid hormones. A low-iodine diet is used as a form of treatment for people with hypothyroidism or hyperthyroidism and for people undergoing radioactive iodine therapy for thyroid cancer. Consult your doctor before limiting iodine in your diet.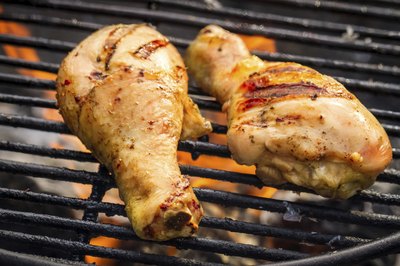 About the Low-Iodine Diet
The low-iodine diet limits your daily intake of iodine to 50 micrograms a day, which means you need to fill your diet with foods that contain less than 5 micrograms of iodine per serving, according to the Thyroid Cancer Survivor's Association. You should also avoid any foods that have more than 20 micrograms of iodine per serving.
High-iodine foods to avoid include iodized salt, seafood and seaweed, baked goods that contain calcium iodate or potassium iodate and egg yolks.
Due to the restrictions of the low-iodine diet, it should be followed for no more than two weeks.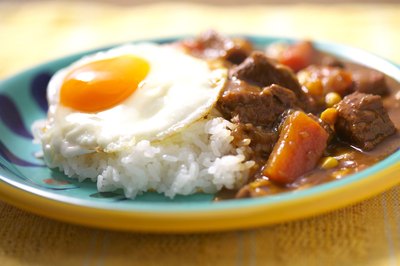 Low-Iodine Grains and Starches
Limiting your intake of processed foods helps you cut back on your intake of iodine. Read food labels to make sure the food doesn't contain iodized salt or other iodine-containing ingredients. Grains and starches with limited amounts of iodine allowed on your low-iodine diet include pasta; whole grains such as rice, bulgur, oats and quinoa; corn flakes; wheat flakes; cream of wheat; breads made without iodine-containing ingredients; and crackers.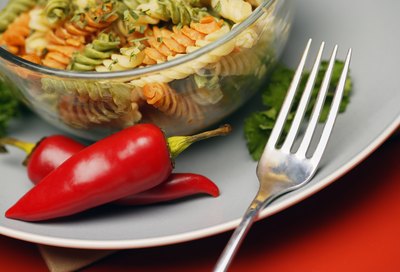 Allowed Fruits and Veggies
Fresh fruits and vegetables are naturally free of iodine. You can eat any fresh, frozen or canned fruit packed in juice or canned vegetables. Dried fruit and 100-percent fruit or vegetable juice are also allowed on a low-iodine diet.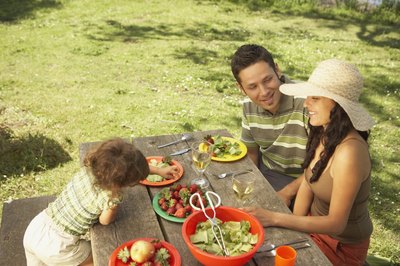 Protein Choices
A variety of both animal and plant proteins are allowed on the low-iodine diet. To limit your exposure, include fresh animal proteins prepared without sauces such as pork, beef, lamb or poultry. Deli meats such turkey, ham and chicken are also allowed on the diet, as are egg whites.
Unsalted nuts, seeds, peas, lentils and beans such as chickpeas and kidney beans are also allowed on the low-iodine diet. The amount of iodine in soy and soy products in foods in the U.S. is not well-known, and the National Institute of Health suggests you avoid all soy foods on your low-iodine diet unless you're a vegetarian or vegan and it's your primary source of protein.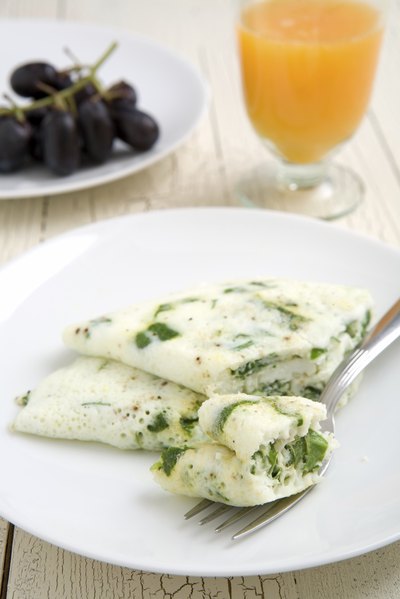 Nondairy Options
Due to their high-iodine content, avoid all dairy foods, including milk, yogurt and cheese, while on a low-iodine diet. Plant-based alternatives fortified with calcium make good substitutes such as almond milk, hemp milk or rice milk.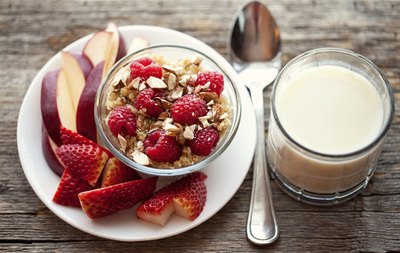 Sample Low-Iodine Menu
For a healthy, low-iodine breakfast, try a bowl of oatmeal made with almond or rice milk and topped with bananas and almonds. For lunch, you might enjoy grilled chicken on a bed of mixed greens with balsamic vinaigrette served with whole-grain crackers and a fresh apple. If you don't eat meat, substitute chickpeas for the chicken.
At dinner, London broil with roasted sweet potatoes and roasted asparagus with a side salad topped with a vinaigrette makes a good choice. If you're a vegetarian, consider quinoa mixed with lentils and chopped cashews and served with grilled peppers, onions and eggplant. Healthy snacks include fresh fruit, unsalted nuts, whole-grain crackers with unsalted nut butter or popcorn (see reference 2, reference 4 used to create menu).