Since the mid-1600s, France has been a leader in fashion design, and prominent French designers like Hubert de Givenchy, Coco Chanel and Christian Dior established trends that were adopted by men and women throughout the Western world. More recently, contemporary fashion designers like Yves Saint Laurent and Jean Paul Gaultier provoked emulation and controversy with their semi-casual and gender-bending fashions.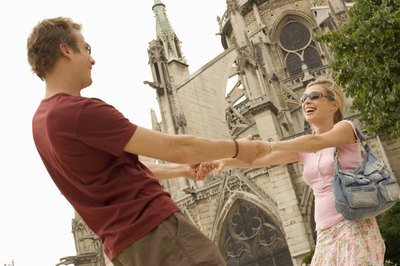 Coco Chanel
Having learned to sew in an orphanage, Gabrielle "Coco" Chanel rose to prominence in the 1920s as a designer of simple suits and dresses that were both formal and accessible. The practicality of her designs was evident in her use of jersey, a low-cost fabric previously used primarily for the manufacture of men's underwear and in the short skirts that became a trademark of her style. Functional and highly popular, the Chanel skirt facilitated the move away from corsets in women's fashion.
Christian Dior and Yves Saint Laurent
Christian Dior was a pioneer among fashion designers following World War II. From 1946 to his death in 1957, he created clothing for women that rebelled against established fashions of the three preceding decades, including full skirts that, according to critics, brought "femininity" and luxury back into style. Dior's assistant, Yves Saint Laurent, challenged the limits of fashion in the '60s and '70s with controversial clothing lines for women that included blazers, smoking jackets and tuxedos. His innovative jumpsuits, smocks and see-through blouses initially provoked outrage among critics but have since become fashion mainstays.
Into the Future
In the 1960s, designer Pierre Cardin brought futuristic designs into fashion with his surreal, science-fiction-inspired space helmets and goggles. This "space age" aesthetic won further renown through the sharp, geometrical styling of Andre Courreges. In the 1980s and 1990s, Jean Paul Gaultier challenged existing gender binaries with his male skirts and corsets, arguing that male skirts have a long multicultural history and designing the brassieres worn by Madonna's male models that became a mainstay of the singer's concerts.
Contemporary Designers
Among the current generation of fashion designers, the Elisha brothers -- Alexandre, Laurent and Raphael -- have won acclaim for their gender-neutral fashions. Maxime Simoens creates "story" collections of designs that must be viewed together, while Vanessa Bruno clothing straddles the line between casual and formal. Bouchra Jarrar creates comfortable clothing for working women, and Isabel Marant has revived the bohemian look for a new generation.