When you have a surgical procedure that prevents you from eating solid food right away, your doctor will discharge you on a liquid diet. This plan is meant to provide you with some nutrients while you transition back to a regular diet. Your doctor may place limitations on the type of liquids you can have based on your specific situation. Always follow the guidelines your physician and dietitian give you without deviating.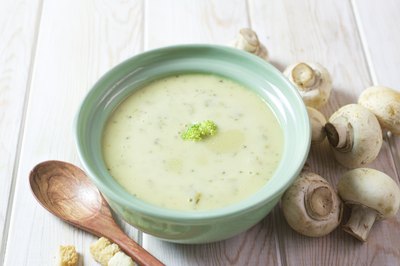 Clear Liquid Diet
The first diet after surgery is usually a clear liquid plan. Your doctor may start you on this stage or a later one, depending on which procedure you had done. On this plan, clear liquids that you can see through are allowed. Expect to be limited to pulp-free fruit juices, fat-free broth, tea, coffee, soft drinks, gelatin, fruit ice, ice pops and clear hard candy to suck on. You'll avoid all other liquids including vegetable juice and fruit nectars, but your doctor may allow you to have clear nutritional supplement drinks.
Full Liquid Phase
When you're ready, your doctor will progress you to a full liquid diet. Expect to have all the liquids allowed on the clear plan along with milk, other juices and a small amount of fiber. You're allowed to have vegetable juice, fruit juice and fruit nectar, as well as milk, yogurt, pudding and smooth ice cream. Enjoy cooked cereals like cream of rice and farina, in addition to strained cream soups and tomato soup as well.
Pureed Meal Plan
On the pureed plan, you're allowed to have foods from the clear liquid and full liquid phases, plus any food you puree into a smooth consistency. Your doctor may set individual restrictions. To puree foods, remove skins and inedible portions like seeds and bones, cut food into small pieces, cook it until it's very tender and blend it in a food processor. Add small amounts of liquid to create a thin, drinkable consistency. Choose a variety of foods from different foods groups so you get a balance of nutrients.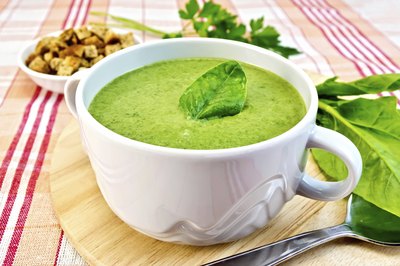 Meals You Can Make
The clear liquid plan is the most limited of the stages. A sample meal on this phase is 1 cup of broth, 1 cup of gelatin and one-half cup of fruit ice. With the expanded choices of the full liquid plan, a sample meal is 1 cup of cream soup, 1/2 cup of yogurt and 1 cup of fruit or vegetable juice. As you move on to the pureed plan you have the most freedom of the liquid diets. One example of a meal on the pureed phase is 4 ounces of pureed chicken with 1/2 cup of pureed asparagus and 3 ounces of pureed mashed potatoes.