Unlike other types of tea, herbal teas don't contain caffeine. White, green or black teas, however, contain between 14 and 61 milligrams per 6- to 8-ounce serving, with longer steeping times leading to higher amounts of caffeine. Even decaffeinated versions of these teas contain about 12 milligrams per serving. There's a simple explanation for this -- herbal teas are made using different plants than true teas.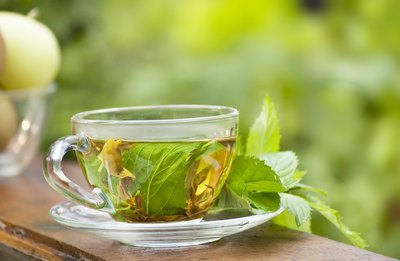 Herbal Teas vs. Other Teas
Herbal teas are made from various combinations of herbs, dried fruits and flowers, while true teas, including Pu-Erh, oolong, white, green and black teas, are made from tea leaves from the Camellia sinensis plant. Herbal teas don't contain any actual tea leaves. Yerba mate, or mate, a beverage made from the leaves of a South American holly tree, is one exception, as it does contain caffeine.