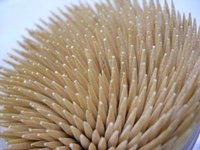 Something as simple as a toothpick, found in most restaurants now of days, actually has quite a long history that spans many centuries. The toothpick, in fact, is older than our species itself (http://www.smithsonianmag.com/history-archaeology/toothpick-abstract.html). From being a useful tool to clean one's teeth to becoming a status symbol, the toothpick has a long history and has come a long way.
Anthropologists and the Toothpick
Anthropologists have studied toothpick use in cultures as old as the Neanderthals. Having found grooves on the fossilized teeth of these prehistoric cultures, they believe that toothpicks were in use even back then. Evidence also shows that toothpicks were used in ancient Rome by Nero. These toothpicks were believed to have been made of silver instead of the rough material like the Neanderthals used (http://www.npr.org/templates/story/story.php?storyId=15681628). And this was just the beginning of the life of the toothpick.
Charles Forster and the Toothpick
Toothpick use in the United States began when Charles Forster was working on a family farm in Brazil. While there, he noticed the natives' teeth seemed well groomed. He guessed that was due to their use of handcrafted tooth cleaning devices known as toothpicks. Forster produced toothpicks in large amounts with machinery and shipped them to South America to make a profit. Forster didn't have much talent in creating toothpicks, he did have a talent for business. He acquired a patent so had a monopoly on the toothpick market (http://www.slate.com/id/2177109/).
Harvard Students and Charles Forster
Many have wondered how such a small product gained such wide usage. This too, was because of Charles Forster. In the 19th century, after the toothpick had made its way to North America, Forster paid students from Harvard University to visit local restaurants and demand toothpicks. Forster would show up the next day to sell his wares to restaurant owners. This tactic allowed toothpicks to spread and increase in popularity.
Toothpicks: A Status Symbol
When toothpicks began to catch on and restaurants started to carry them, they moved from functional devices to status symbol. Soon it wasn't just about picking food out of your teeth, it was about affording to eat at a restaurant that had toothpicks. People started chewing on them in public so that others would see them as fashionable. Chewing toothpicks was so popular that it made its way into a popular book of the time, "Life on the Mississippi" by Mark Twain.
Functions of the Toothpick
Toothpicks were used to dislodge food from teeth, but they have come to have many more uses. Not only have they become a status symbol, they are also used in many food and drink creations. They are used for floating fruits and olives in drinks and to pick up small appetizer foods. They can even be used to repair small holes in a garden hose. Simply place a toothpick in the hole and clip off the excess near to the hose. The wood of the toothpick will swell (http://www.rd.com/advice-and-know-how/extraordinary-uses-for-toothpicks/article24041.html). Toothpicks were created for a simple purpose but their are now used for a number of purposes today.