If you have been diagnosed with an underactive thyroid, a condition known as hypothyroidism, you may feel sluggish, fatigued and unable to focus. Synthetic thyroid replacement therapy relieves many of these symptoms, but avoiding foods that inhibit thyroid function helps restore your health and energy. These same foods may also be useful in slowing down an overactive thyroid. However, the health risks of an overactive thyroid are many and varied, and this condition should also be treated by a physician.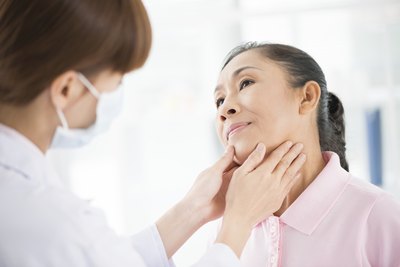 What Is the Thyroid?
The thyroid is a butterfly-shaped gland in the neck that produces thyroid hormones and regulates the body's metabolism. If your thyroid does not produce enough hormones, your metabolism slows down; if it produces too much, your metabolism speeds up. Either condition requires medical attention.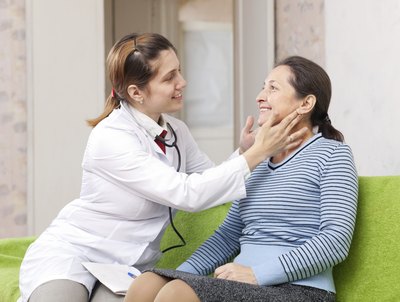 Hypothyroidism
An underactive thyroid is one that does not produce enough T-3 and T-4 hormones. The result is that chemical reactions throughout the body slow down, your rate of metabolism decreases, your body temperature increases and your body stores more fat. According to Dr. Joseph A. Debe, chiropractor and certified dietician/nutritionist, a hypothyroid patient may experience many symptoms, including fatigue, muscle weakness, weight gain, joint pain, loss of sex drive or dry, rough skin.
Protein
Dr. Debe recommends limiting the intake of certain kinds of fish that are known to suppress thryoid function. Larger fish like tuna and swordfish, shellfish, and freshwater fish should generally be avoided. The larger fish often contain high levels of mercury, which suppresses thyroid function. Freshwater fish may by contaminated with PCBs, which also suppress thyroid function. Dr. Debe also suggests limiting protein intake, particularly protein sources with high fat content, because fat is known to inhibit thyroid function.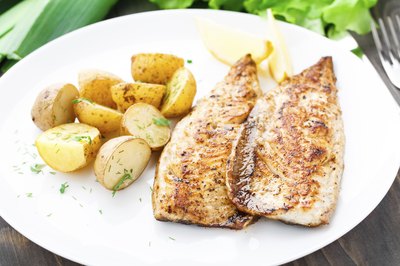 Vegetables and Fruits
Although fruits and vegetables should make up a big part of your diet, if you have an underactive thyroid, it is important to select your fruits and vegetables carefully. If you choose to eat vegetables and fruits from the list of those that suppress thyroid activity, you may want to cook them, as this helps mitigate the negative effects. According to IThyroid.com and Dr. Debe, the following vegetables and fruits inhibit thyroid activity: apples, bamboo shoots, broccoli, Brussels sprouts, cabbage, cauliflower, grapefruit, kale, lima beans, maize, mustard greens, onions and sweet potatoes.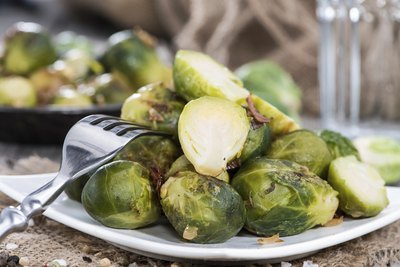 Nuts and Grains
Since foods high in fats may inhibit thyroid production, IThyroid.com suggests avoiding almonds, peanuts, pine nuts and walnuts as well as the grains millet and sorghum, neither of which is widely used in the U.S. Sorghum is most commonly found in molasses.
Other Don'ts
Both Dr. Debe and IThyroid.com recommend limiting the intake of foods containing trans fatty acids and highly processed foods. Most vegetable oils and margarine are high in fatty acids while sweets, bagels, muffins, white bread and many cereals are high in refined carbohydrates (also know as white carbs).