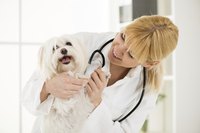 Potassium bromide is one of the medications used to treat epileptic dogs. It works by interfering with electrical activity in the central nervous system that triggers seizures. Historically used with phenobarbital, potassium bromide is becoming increasingly used on its own for seizure treatment because of its effectiveness. It does have potential side effects and a dog needs to be checked periodically for the drug's levels in his system.
Administering Potassium Bromide
Treating seizures with potassium bromide is eventually as simple as giving your dog a pill with supper, however, great care goes into establishing the proper dosage. It takes up to four months to achieve the correct level of potassium bromide in the bloodstream, so most dogs will receive phenobarbital until the proper level is achieved. Sometimes the vet will decide to start with very high loading doses of potassium bromide levels to reach the desired blood level, tapering off to a maintenance dose; the dog is usually hospitalized for this process. The drug carries potential side effects, including muscle twitching, excess thirst and urination, nausea and behavioral changes. Your vet will determine how often your dog's potassium bromide levels need to be tested to ensure the levels don't become too elevated. The drug should be administered with food to reduce nausea; never abruptly stop taking the medication as it can prompt severe seizures. Dogs with kidney disease and pancreatitis have special considerations when taking potassium bromide.