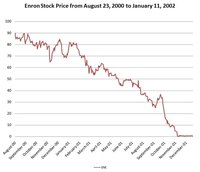 Stock is a general term for a security that signifies partial ownership in a public company. A firm makes a stock offering to raise capital, typically for investment in future expansion. The share price is the cost of one share of the stock on a market exchange. To best understand how a share price has moved in the past, you need to learn to read a stock chart. When reading the sections below, it may be helpful to look at a stock chart like the one of General Electric on Google Finance listed in the Resources section below.
Function
A stock chart is a way to visually display information about a company's stock. A typical stock chart will show you the historical price, current price, general trend and trading volume.
Price
The price displayed is the most recent price paid for the stock. If you watch the chart, you will see the price rise or fall based on the bid and ask prices. The bid price is the highest price a buyer is willing to pay for a share. The ask price (also called the offer) is the lowest a seller is willing to sell a share for.
Volume
The trading volume is the number of shares that are being bought or sold at a given time. On Google finance charts, for example, volume is displayed along the bottom. The higher the bar, the more volume. High volume is associated with very active trading and high liquidity.
Time Frame
On most charts, you will also see a given time frame ranging from minutes to months or years. Modern interactive charts allow you to change the time frame to display the past price trend up to 10 years. You can also shorten it to show only the last hour of trading.
Technical Analysis
Some short-term traders use chart analysis to determine when to buy and sell. By looking at trends in the chart, such as levels of resistance and support (what prices shares don't break above or below), these traders claim to be able to predict price movements and profit from them.
They also use moving averages to gauge where the stock might be heading. Technical analysis isn't an exact science, however, and trends can be interpreted differently over the short and long terms.