Caffeine in high amounts can cause anxiety, irritability, trouble sleeping, nervousness, headaches and a rapid heartbeat. Understanding which foods and beverages contain caffeine can help you keep your intake within the recommended limit of no more than 400 milligrams per day. Some people may experience adverse effects with smaller amounts of caffeine if they are particularly sensitive to it.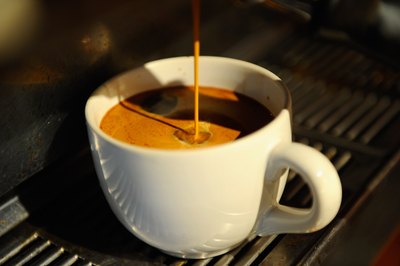 Coffee Drinks
Coffee provides about 64 percent of the caffeine consumed in the United States, making it the main source of caffeine in the typical diet, according to an article in the American Journal of Clinical Nutrition in April 2015. An 8-ounce cup of brewed coffee usually provides between 80 and 180 milligrams of caffeine, and the same amount of decaf coffee has between 3 and 15 milligrams of caffeine. Watch out for overly large specialty coffees, however -- a 20-ounce coffee from a popular chain can have more than 400 milligrams of caffeine.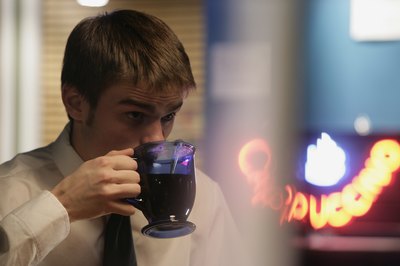 Tea and Mate
Tea is another major source of caffeine, accounting for about 16 percent of the caffeine consumed in the United States, reports the same article in the American Journal of Clinical Nutrition. Black tea has up to 60 milligrams of caffeine per cup, but other types of tea usually have 25 to 45 milligrams. Herbal teas are caffeine-free, but mate teas have more caffeine than other teas. Decaf teas have about 5 milligrams of caffeine per cup.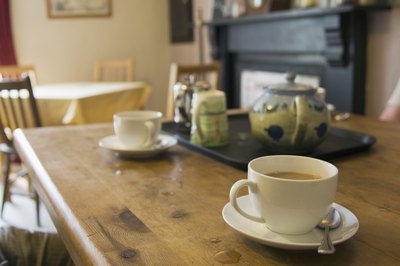 Soda and Energy Drinks
About 18 percent of caffeine consumption in the United States comes from drinking sodas, and another 1 percent or so comes from energy drinks, reports the journal. Colas typically contain between 25 and 43 milligrams of caffeine per 12-ounce can, and energy drinks are a bit higher in caffeine, with 80 to 125 milligrams per cup. Some noncola sodas also contain caffeine, with between 22 and 54 milligrams per 12-ounce can, depending on the type.
Other Food Sources of Caffeine
Any chocolate- or coffee-flavored food or beverage may contain at least a small amount of caffeine. For example, some premium coffee ice creams have as much as 42 milligrams per 1/2-cup serving, and a cup of hot cocoa has about 9 milligrams. Dark chocolate has 27 milligrams of caffeine per 40-gram chocolate bar, making it higher than milk chocolate, which has about 12 milligrams in the same-sized bar.
Some snack foods are also caffeinated to provide more energy, containing anywhere from 10 to 600 milligrams of caffeine per serving. Although not often consumed in the United States, kola nuts and the Christmas berry tree also provide caffeine. The Christmas berry tree, also called cassina or youpon, was used to make a coffee substitute during the Civil War.