Steroid acne may look similar to common acne vulgaris, but it's typically more closely related to such conditions as malassezia folliculitis or follicular hyperkeratosis. This skin condition can occur in conjunction with Cushing's syndrome, but it's more likely to be a byproduct of steroid use--particularly among adolescents and adults. Although steroid acne may aggravate acne vulgaris in people who already have a propensity toward developing that condition, it's more closely akin to a yeast infection than an acne outbreak.
Appearance
Steroid acne typically presents on the chest. It may also appear on other parts of the body including the back, neck, face and arms. This type of acne appears as small itchy bumps on the skin. Most of the time these bumps are all the same size, which is different than common acne vulgaris. The lesions may also have pustules.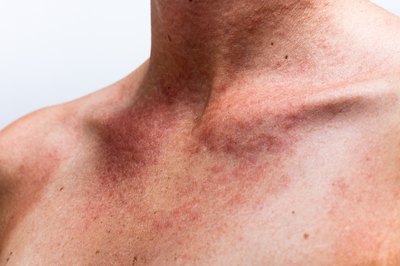 Features
Most cases of steroid acne, or folliculitis, are superficial and will clear up on their own once steroid use is discontinued. However, even superficial cases may be uncomfortable and embarrassing. The bumps may have whiteheads that itch and can get infected when scratched. Severe cases can cause permanent scarring and hair loss.
Identification
Steroid acne is very similar in appearance to acne vulgaris and a number of different varieties of folliculitis--including Staphylococcal folliculitis, Pseudomonas folliculitis, Tinea barbae, Pityrosporum folliculitis and others. Because the treatment of these different skin infections and conditions may be very different, it's important to properly identify the condition. If the outbreak doesn't begin to clear on its own after a few days, or if it begins to spread, the patient should consult a qualified physician for treatment.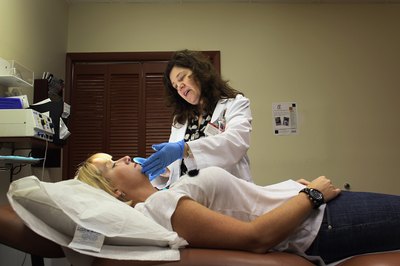 Treatment
According to the Department of Dermatology, University of Pennsylvania School of Medicine, a once- to twice-daily topical application of a 0.05 percent tretinoin solution is effective in treating steroid acne. Complete clearing of the condition can typically be achieved, even if the patient continues to use steroids.
Considerations
In a study reported in the National Center for Biotechnology Information (http://www.ncbi.nlm.nih.gov/pubmed/18561585), more than 300 patients who had used a formulation of hydrocortisone 0.75 percent and precipitated sulfur 0.5 percent were sampled. The formulation was used as a treatment for seborrheic dermatitis and in combination with prescription topical medications for the treatment of acne and rosacea with tolerability problems. The results of the study showed no instances of steroid acne when topical hydrocortisone 0.75 percent is compounded sulfur.