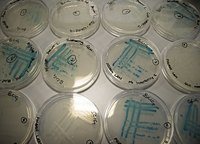 A urinary tract infection (also called a bladder infection or a UTI) is an inflammation of the urinary system caused by bacteria that is normally found on the skin or in the intestinal tract being spread into the urinary tract. You may have recurring urinary tract infections if you experience infections repeatedly even after you have already received the proper treatment for them. There are several causes of recurring urinary tract infections, including poor hygiene and immune system troubles.
Catheterization
People who must use catheters are at risk for recurring urinary tract infection. A catheter is a small tube that is inserted into your bladder through your urethra. It is used to empty the bladders of people who cannot do it themselves. This can be necessary in all types of conditions, including comatose or bedridden hospital patients. Catheters are even sometimes used to obtain urine samples from infants. The reason that catheters increase the risk of recurring urinary tract infections is because they open the urethra to foreign objects.
Sexual Intercourse
For some women, sexual intercourse is the cause of recurrent urinary tract infections. A woman's urethra is located just above the opening to her vagina, leaving it open to any bacteria that may present in the vagina. When a man's penis is inserted into the vagina, the bacteria that are normally present on his skin can be transferred to the woman's urethra, causing a UTI. Men who have sexual intercourse with other men are also at risk for recurrent UTIs, because they insert their penises into the other man's anus. Bacteria in the stool or intestinal tract can be transferred from one man's anus to the other man's penis and cause a urinary tract infection.
Poor Hygiene
In some cases, recurrent urinary tract infections can be brought on by poor hygiene, especially in women. The location of the woman's urethra exposes it to the bacteria that are generally found around the anus. If you do not wipe front to back after a bowel movement, it is possible to spread that bacteria to your urethra. In uncircumcised men, if you are not careful to clean underneath the foreskin, it is possible for bacteria to build up there and find its way into the urethra. Not bathing or changing underwear frequently can also cause recurrent urinary tract infections.
Problems With the Immune System
Some people get recurrent urinary tract infections because there is something wrong with their immune systems, such as AIDS or lupus. Your body is exposed to all sorts of bacteria and viruses every day. Most of them are killed by your immune system before you even notice anything is wrong. When the pathogens are not killed by your immune system, infection develops. If you find yourself developing urinary tract infections repeatedly, your health-care provider will often run tests to make sure that your immune system is working properly.
Problems With the Urinary System
Recurrent urinary infections can also be caused by a problem within your urinary system. The urinary system may be malformed, allowing bacteria to have a better chance to proliferate. This is especially true in infants or children. The kidneys are the main organ within the urinary system, and chronic urinary tract infections can be a result of kidney disease. Diseases of the bladder, another important part of the urinary system, can also be a cause of recurrent urinary tract infections.