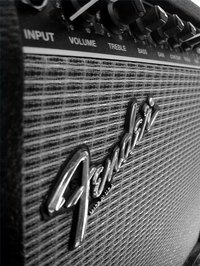 The Fender Vibrolux and Deluxe Reverb amplifiers have been compared for years. Their sounds are almost identical at lower levels, but the difference in wattage, tubes and effects prove they are not as similar as one might think.
Fender Deluxe Reverb
The Fender '65 Deluxe Reverb amplifier is a diverse amp, commonly used as a studio amp but loud enough to play in small venues. Crafted for rock, country or blues, the Deluxe amp was played on a number of classic recordings (Abbey Road, Sun Studios and more).
According to Dolphin Street, the Deluxe is a great amp for musicians who want a small amp they can crank without compromising the tone in a live or studio setting. Furthermore, the built-in vibrato and reverb effects are top of the line on this Fender amp.
Deluxe Features
The Deluxe boasts 22 watts, a 12-inch speaker, two channels, tube spring reverb, tube vibrato and tube rectifier. This USA-made amp also has a bounty of tubes (two 6V6 Groove Tubes, one 5AR4 rectifier tube, four 12AX7 preamp tubes and two 12AT7 tubes) that give the Deluxe its powerful, classic Fender sound.
The Deluxe retails at $1,000.
Fender Vibrolux
The Fender Custom Vibrolux Reverb amplifier is a jack of all trades, but, according to Musician's Friend, works best for dynamic guitar players. It brings a powerful sound that can be turned way up or turned way down without compromising the tone of the amp.
According to The Tone Quest Report, the Vibrolux is a versatile amp that can get solid tones at lower volumes but is still great for large clubs.
Vibrolux Features
Included with the Vibrolux are 40 watts, two 10-inch Jensen P10R speakers, two independent channels, reverb, vibrato, two-button footswitch, tilt-back legs and lots of tubes (two 6L6 Groove Tubes, five 12AX7 preamp tubes and one 12AT7 reverb/vibrato tube).
The Vibrolux retails at $1,200.
Comparison
While the Fender Deluxe Reverb and the Vibrolux Reverb amps have comparable sounds, they are different. The Vibrolux has almost double the wattage of the Deluxe, and its two 6V6 and five 12AX7 tubes give it a louder, more powerful sound. If you're cranking the two amps, you can tell the Vibrolux is more powerful, but if you're playing each at quieter levels, their sounds are almost identical.
For musicians looking only for a smaller Fender tube amp great for rehearsals, small clubs and recording sessions, the Deluxe is your amp. For those looking for an amp great for all of the above and for large clubs, then the Vibrolux is your amp.