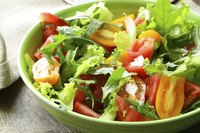 A vegetarian diet offers a number of benefits to a person with diabetes, but it's not a cure. When planned right, a vegetarian diet is filled with fiber and other health-promoting nutrients that not only help you manage your blood sugar but also improve your overall health. Talk to your doctor or dietitian to help you plan your diabetic vegetarian diet to make sure you get the nutrients you need.
Why Vegetarian
There are a few different types of vegetarian diets. Lacto-vegetarians include dairy in their diet, ovo-vegetarians eat eggs and vegans exclude all animal products.
No matter which vegetarian diet you follow, as long as you include mostly healthy food choices, you will benefit. People with diabetes who follow a vegetarian diet not only have better control over their blood sugars, but they also tend to have an easier time managing a healthy weight. It's also a heart-healthy diet that may help lower your risk of cardiovascular disease.
Planning Your Diet
To reap the benefits of a vegetarian diet for diabetes, your diet needs to be filled with nutritious plant foods, such as fruits, vegetables, legumes, whole grains, beans, nuts and seeds.
But that doesn't mean you get to eat as much of these healthy foods as you want, whenever you want. You still need to follow the same general principles of a diet for diabetes, which includes watching your portions, controlling the amount of carbs you eat at each meal and eating at regular and consistent times each day.
Sample Meals
A healthy, carb-controlled vegetarian breakfast meal might include 1 cup of oatmeal topped with 3/4 cup of blueberries and 12 chopped almonds. Serve it with 1 cup of nonfat milk or soy milk. This breakfast contains 60 grams of carbs and 320 to 340 calories.
For lunch, a grilled vegetable sandwich on two slices of whole-grain rye bread with a container of nonfat yogurt, a small apple and a mixed green salad with 2 tablespoons of salad dressing makes a healthy and delicious vegetarian option. This meal contains 60 grams of carbs and 520 calories.
Enjoy a healthy and filling pasta dish made with 1 cup of cooked penne pasta and 1/2 cup of chickpeas and tossed with broccoli, carrots and cauliflower that has been sauteed in 1 tablespoon vegetable oil. This meal contains 60 grams of carbs and 540 calories.
Snack options might include a container of nonfat yogurt with 12 cashews; celery and green pepper sticks with 1/2 cup of hummus; 10 whole-grain crackers with 1 tablespoon of peanut butter; or an apple with 1 ounce of cheese. Each of these snacks contains 15 grams of carbohydrates and 200 calories.
Meat Substitutes and Vegetarian Junk
Meat substitutes are foods that resemble animal meats but are made from plant foods, such as soy or gluten. While these foods can fit into your meal plan, be sure to read the "Nutrition Facts" label to check calories and carbs to stay on track.
Also, while the vegetarian diet is a healthy eating plan for people with diabetes, not all vegetarian foods make healthy choices. For example, foods such as pizza, french fries, potato chips, cake and cookies are considered vegetarian foods, but they are not healthy options. These foods are OK on occasion but should not make up the bulk of your diet.