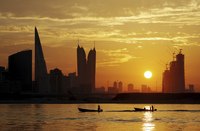 Any country composed of a chain of over 40 islands is likely to offer some fishing opportunities, and Bahrain, off the coast of Saudi Arabia, does not disappoint. You'll have to get a temporary tourist fishing license, but you can do this in big hotels. However, think twice before throwing out that hook and line, since Bahrain waters are both polluted and overfished.
Fishy Business
Although fish populations have fallen dramatically in the past decades, the types of fish available near Bahrain remain impressive. Several hundred species swim in the waters, and those fishing often catch spine fish, grouper, perch, seabream and silver-biddies. Petroleum activities and spills in the area have polluted the Arabian Gulf, but the levels of heavy metal in fish tested have, in large, remained below the maximum permissible levels allowed by international legislation for human consumption.
Recreational Fishing
Before the development of the petroleum industry in the region, fishing was an important industry in Bahrain; it is considerably smaller today. However, recreational fishing is developing, and you can find hundreds of pleasure craft at the largest boat marinas in the city of Bahrain, as well as hundreds more in villages around the islands. Your hotel can probably assist you to hook up with a boat. Given the pollution, it is best to fish some miles offshore.