When you go shoe shopping, are you overwhelmed by the all the choices? Can you tell the difference between a mule and a sandal, or a wedge heel and a kitten heel? If not, take this basic guide to women's shoes with you the next time you need a new pair of shoes.
Flats
Flats are shoes with no heel. They range from casual canvas skimmers, to patent leather ballet flats with a delicate bow on the front, to sturdy loafers or moccasins. They usually slip on, although some styles have a strap across the instep (Mary Janes) or tie like men's dress shoes (oxfords). Flats are versatile; depending on the style, they can work with jeans, capri pants, long or short skirts and dress trousers.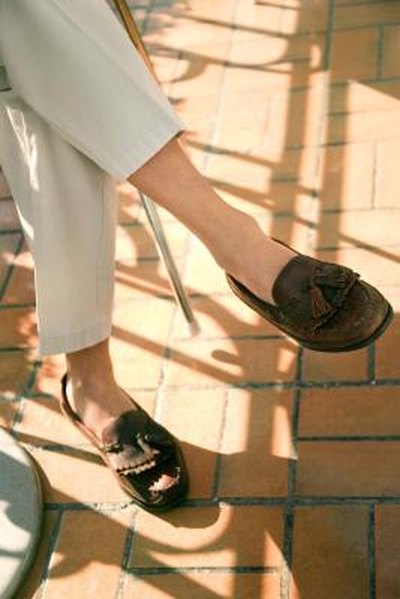 Heels
Heels come in many different heights and styles, but the most common types are pumps, chunky heels and stilettos.
Pumps are simple dress shoes with a low-cut vamp, a mid-height (2-to-3 inches high) tapered heel, and either a rounded or pointed toe.
Chunky heels have a thick heel that does not taper much and are more comfortable to wear than narrow heels. They come in every height and usually have a rounded or square toe.
Stilettos have very high (4 inches high or more), extremely narrow heels, often with a metal support inside to stabilize it. Stilettos often have a very pointed toe.
Other heel shapes are wedge heels, which is a solid heel that supports the whole shoe; kitten heels, which are low but narrow heels; and stacked heels, which are made of multiple layers of material sewn together. They come in varying heights in chunky and tapered shapes but are not narrow.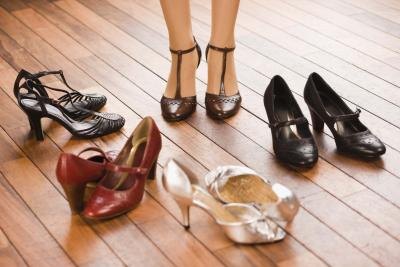 Sandals
Women's sandals come in casual and dressy styles. Casual sandals usually have a flat heel and can be utilitarian, like Birkenstocks, or fashionable, like strappy gladiator sandals. Dressy sandals have a high heel and satin or narrow leather straps. They are usually worn for an evening out or with formal wear, such as a bridesmaid's gown for a summer wedding.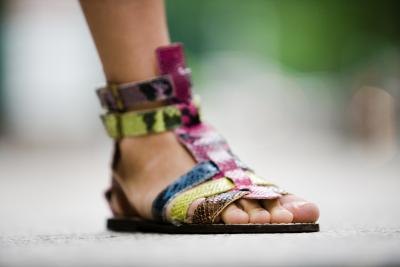 Mules
Mules are backless shoes and are usually low-heeled or mid-heeled. If your office does not have a closed-shoe policy, mules are great for work, because they look good with skirts and pants and can be discreetly slipped off under your desk when your feet need to relax. Slides are a type of mule that also have an open toe. They go well with sundresses.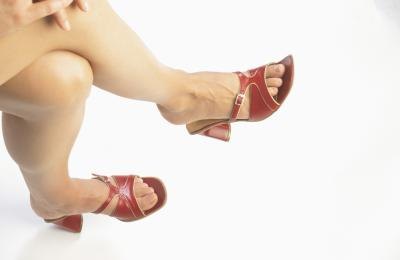 Boots
Boots for women can be practical, such as sheepskin boots designed for warmth, or flat riding boots designed for horseback riding. Fashion boots come in a range of heel heights and can reach just to the anklebone or all the way up to the thigh. However, black leather knee-high boots with a high heel are the ne plus ultra of a woman's boot wardrobe. Add them to a plain knee-length skirt, and like magic you have a sexy, confident look.