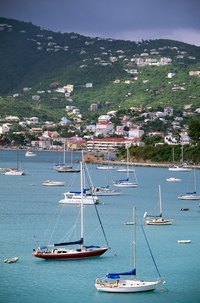 St. Thomas, one of the U.S. Virgin Islands, is a sunny destination surrounded by the deep blue waters of the Caribbean Sea. Visitors climb the 99 Steps built in the 18th century by the Danes, laze on sugar-sand beaches and explore a castle reportedly used by Edward Teach, better known as Blackbeard the Pirate. While U.S. citizens aren't required to have a passport to visit, there are other regulations for both citizens and non- citizens.
U.S. Citizens
U.S. citizens are not required to show a passport when traveling to and from St. Thomas. However, if you do not have a passport, you will be required to show both an official government-issued photo ID, such as a current driver's license or a state ID card, and proof of citizenship.
Non-U.S. Citizens
If you are a citizen of a country other than the United States, you will be required to show your passport with a valid United States visa. Citizens of certain countries may enter the United States without a visa. If you require a visa, you must apply at the U.S. consulate in your country of residence. If your country of residence is the United States, then you will have to show your passport and the visa or document that allows you to legally reside in the U.S. such as a permanent resident card or work visa.
Proof of U.S. Citizenship
U.S. citizens traveling to and from St. Thomas can present the following documents as proof of citizenship: a U.S. passport, a certified birth certificate (if it's certified, it will have a raised seal), certificate of citizenship, certificate of naturalization, or consular report of birth abroad of a U.S. Citizen. You will be asked to present proof of citizenship when returning to the mainland U.S. If you are carrying your U.S. passport, this will serve as both your photo ID and proof of citizenship.
Inter-Caribbean Travel
If you travel to another island in the Caribbean from St. Thomas (with the exception of Puerto Rico, which is also a U.S. territory), you will need a passport. For example, many visitors to the U.S. Virgin Islands also like to visit the neighboring British Virgin Islands. You will need your passport to enter the British Virgin Islands and re-enter St. Thomas. A good rule to remember is that, anytime you leave U.S. soil, take your passport with you.
Tips
When traveling, it is always wise to scan your travel identification and documents and email a copy to yourself in case they are lost or stolen. You also can leave a copy with a friend or family member. The best way to avoid any hassles at check-in and security when traveling to a U.S. territory is to use your U.S. passport. This also allows you more travel flexibility if you choose to visit other islands.