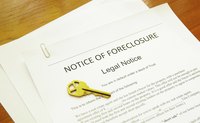 State law requires mortgage lenders to officially notify you of an impending foreclosure. After several missed payments you may receive a notice of default (or NOD) initiating the pre-foreclosure stage, depending on which state you live in. You have a certain amount of time after receiving a "NOD" to catch up with payments or come up with a solution that's acceptable to your lender.
NOD for Non-judicial Foreclosure States
Foreclosures are conducted either through the courts or with the help of a third-party trustee and without the courts. In non-judicial states, a trustee notifies you of your lender's intent to foreclose. The trustee sends you a NOD that includes state-mandated information about the foreclosure. Statutes also establish specific delivery methods for a NOD. In addition to sending you the notice, trustees usually publish the NOD in a local newspaper and record it with your county's land records office, or county recorder.
Common NOD Features
An NOD is posted at the home that is in danger of being foreclosed. An NOD usually must state the default amount, which is higher than your current unpaid balance due to penalties and legal fees the lender assesses. It also lists the default date and the lender's contact information so you can contact your lender directly about the notice.