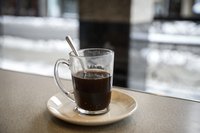 From jitters to sleeplessness, too much caffeine can certainly affect how you feel and sometimes your health. Knowing the limits and the potential downfalls of going overboard may help you determine how much is too much. Consult your doctor about caffeine in your diet.
What's Too Much
On average, Americans get about 200 milligrams of caffeine a day, according to Brown University; that's approximately how much caffeine you get in 2 cups of brewed coffee.
Up to 300 milligrams of caffeine a day is considered safe, according to MedlinePlus. More than 2,000 milligrams of caffeine a day is considered too much.
Caffeine Sensitivity
Caffeine sensitivity refers to the amount of caffeine you need to ingest to feel the effects of the stimulant. The amount varies and depends on your size and your usual caffeine consumption.
In addition to the jitters and insomnia, caffeine sensitivity symptoms also include mental alertness, an increase in urination, anxiousness, restlessness, excitability or a temporary increase in heart rate. Some people may also experience headaches.
Caffeine Intoxication
Caffeine is found in a variety of products, from drinks to food to medication, making it easy for you to consume more than you realize, which may result in an overdose or intoxication. In addition to some of the symptoms seen with caffeine sensitivity, such as sleeplessness and an increase in heart rate, signs of caffeine intoxication may include confusion, changes in alertness, hallucinations, fever, diarrhea or vomiting.
The U.S. Food and Drug Administration has issued a warning about powdered caffeine sold in bulk over the Internet. It's marketed as a nutrition supplement, and 1 teaspoon of the caffeine powder is the equivalent of drinking 25 cups of coffee, or about 2,500 milligrams of caffeine. The powerful stimulant may lead to an accidental overdose and has caused at least two deaths, according to the FDA.
If caffeine intoxication is suspected, you should contact Poison Control (1-800-222-1222) or go to the nearest emergency room.
Addiction and Withdrawal
Due to the effects caffeine has on the nervous system, some people may form a mild addiction to the drug. Like other drugs, if you stop the caffeine cold turkey, you may experience withdrawal symptoms such as headaches, drowsiness, irritability, nausea or vomiting.
If you're trying to cut back on the amount of caffeine you get every day, do so slowly. Start by replacing one of your caffeinated drinks with a noncaffeinated drink such as water, and continue to cut back as tolerated until you've eliminated caffeine from your diet or cut back to a level with which you feel comfortable.
Caffeine: Not Recommended for Everyone
While caffeine is considered a safe ingredient in food, it is not good for everyone. Due to the effects it has on the heart, if you have high blood pressure you may need to limit the amount of caffeine you get in your diet. Caffeine may also raise blood cholesterol levels, says Brown University.
Coffee, although it doesn't necessarily have to be caffeinated, may also not be good if you have an ulcer.
Caffeine may affect a woman's ability to conceive, according to Brown University. If you're already pregnant, the FDA recommends you cut caffeine out of your diet or limit your intake to 1 cup per day because caffeine crosses the placenta and may affect the baby.