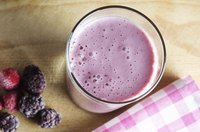 Although cafes and juice bars tout smoothies as "health foods," that isn't always true. Some smoothies are better for you than others, which is why you should always review nutritional information for your drink before guzzling it down. Making your own smoothies affords you the most control over both ingredients and nutrients.
Calorie Counting
The number of calories in your smoothie depends both on the ingredients in it and your portion size. For example, at a national juice bar chain, a 16-ounce strawberry banana smoothie has 260 calories, but the 28-ounce version of the same drink has 470 calories. Making your own? A small smoothie with one-half of a frozen banana, three medium strawberries and 1 cup of skim milk has about 150 calories. If you change the milk to vanilla ice cream, however, you more than double the smoothie's calorie count.
Watch the Sugar
Fresh or frozen fruits offer natural sweetness in a healthy, low-calorie package. Fruit juices and added sweeteners are not as healthy but are still present in many smoothies. For the highest nutrient amounts and the fewest total calories, pick drinks that are made entirely with real fruit rather than fruit juices or fruit flavors. The vitamins, minerals and healthy compounds in fruit can help prevent conditions such as high cholesterol, heart disease, stroke, cancer, obesity, bone loss, kidney stones and diabetes. In contrast, added sugar may increase the risk of several of those conditions.
Healthy Ingredients
Aside from fruit, a creamy ingredient such as milk or yogurt is often added to smoothies to improve the texture and depth of flavor. Any dairy milk will add calcium and protein to your drink, but whole and 2 percent have less calcium and more saturated fat than skim or 1 percent. With yogurt, stick to plain and low-fat or nonfat varieties to limit calories, sugar and fat. Greek yogurt offers more filling protein than traditional yogurt without adding calories – 17 grams in a 6-ounce container versus 10 grams in the same amount of traditional.
What to Avoid
Protein powder is a common addition to smoothies, but unless you are a vegan or are actively training to gain muscle mass, it's not necessary to include. Most Americans already get more than the amount of protein they need every day through a typical diet. It's also smart to avoid smoothies that are bigger than about 8 to 12 ounces. Liquid calories are less filling than calories from solid foods, so instead of ordering a huge drink, sip a small serving and combine it with a salad or another healthy side.