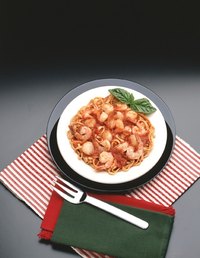 Iron deficiency is the leading nutritional deficiency among Americans, including children, according to the Centers for Disease Control and Prevention. Iron is necessary for the production of hemoglobin, which transports oxygen from the lungs to the rest of the body. If you are not getting enough iron, you may experience lethargy, foggy thinking, shortness of breath, reduced productivity and headaches. You also may get cold easily. Children with inadequate iron intake risk cognitive delay and behavior problems. Increase iron absorption by consuming high-iron foods with vitamin C.
Seafood and Meat
Five small clams contain about 150 percent of the Daily Value (DV) for iron. A mere third of a cup of canned boiled clams contains 110 percent or your daily iron needs. If you prefer shrimp, you'll have to settle for 15 percent DV for 4 ounces--about what you'd get from 3 ounces of red meat.
Spinach
One cup of cooked spinach delivers 35 percent of the Daily Value for iron. Try sautéing it with garlic and tossing with rice or pasta and pine nuts. Spinach is also a great pizza topping and lasagna ingredient.
Molasses
Consuming one tablespoon of blackstrap molasses will contribute 15 percent to your daily iron needs. Try mixing it with milk for a sweet treat (warm or cold). You also could try making a Braggs® energy drink: Add one to two tablespoons of molasses to the same amount of apple cider vinegar, then dilute with water.
Raw Pumpkin Seeds
An easy way to increase your iron intake is to add a quarter-cup of raw pumpkin seeds to your daily diet. When eaten raw, they will give you 30 percent of your Daily Value. If you prefer them roasted, you'll get about half that.
Beans
Turn beans into hummus, toss them in a salad, roll them into a burrito or make some chili to satisfy another 8 percent of your iron needs. The serving size for beans is a half-cup.
Edamame
Edamame are tender baby soybeans that you can boil right in the pod or buy already shelled. One cup in the shell provides 20 percent of your daily iron needs. These make a great snack or appetizer, and kids may enjoy them as a finger food. Also look for them in frozen vegetable blends.
Tempeh
With 15 percent per serving, Tempeh can help you add more iron to your diet. Tempeh, a fermented soy product with a meaty texture, can be grilled or cooked in a pan with a little bit of oil. It can be used in sandwiches, on salads or as a quick finger food when served with a creamy dressing or mayonnaise. It also goes well in stir fry and stews, where it will soak up juices and flavors like a sponge without losing its texture.