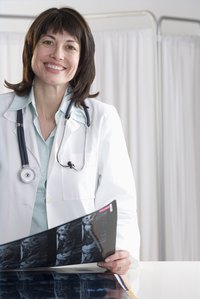 Trichomoniasis is a sexually transmitted disease that normally affects women, although the infection occasionally occurs in men. Trichonomoniasis is the most pervasive, yet curable, sexually transmitted infection worldwide. Infected individuals display a characteristic set of symptoms and can be effectively treated at any stage of the disease.
Aspects
Trichomoniasis is caused by the presence of the parasitical protozoa Trichomonas vaginalis in the vagina of women or the urethra of men. Women can contract the infection from sexual contact with either men or women. Men tend to contract the infection only after sexual contact with an infected female. In addition, women are more likely to display the common symptoms of Trichomoniasis infection; many infected men experience none of the characteristic symptoms.
Discharge
One of Trichomoniasis' characteristic early symptoms is the presence of unusual discharge. In women, this discharge comes from the vagina and can be an abnormally large amount or have an unpleasantly strong odor. Often, the feminine discharge appears foamy and can be yellow or greenish in color. The discharge can be accompanied by vaginal itching and discomfort. Men with the infection may have unusual discharge from the penis of a white or milky appearance.
Urinary Problems
Urinary problems are also a common sign of Trichomoniasis infection. Both women and men may begin to experience pain or a mild burning sensation during and after urination. This discomfort is due to the infection causing vaginitis (inflammation of the vagina) or urethritis (inflammation of the urethral tube).
Pain
Women suffering from a Trichomoniasis infection often suffer lower abdominal pain, usually related to the inflammation of vaginal and cervical tissue caused by the disease. Men may also experience pain and swelling in the scrotal area if the epididymis, the sperm transport area between the testes and the vas deferens, becomes inflamed by the Trichomoniasis parasite.
Treatment
Trichomoniasis can be quickly and effectively treated by a course of antibiotics prescribed by a physician. The most common antibiotics used are tinidazole or metronidazole. Since regular sexual partners can continue to re-infect one another if only one partner is treated for the infection and the other still harbors the Trichomoniasis vaginalis parasite, both partners should undergo antibiotic treatment at the same time. Women should seek medical attention promptly if they experience any of the above Trichomoniasis symptoms to prevent spreading the infection to other sexual partners.