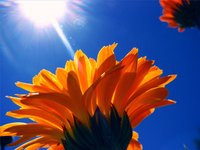 All animal cells contain cholesterol. The functions of cholesterol are many and varied. According to the National Heart Lung and Blood Institute of the National Institutes of Health, the human body makes all the cholesterol it requires. It is easy to see why cholesterol control is so important when you know that the body's functions actually require no cholesterol from outside sources. Educate yourself about cholesterol, put your knowledge to use and it will decrease your chances of developing heart disease or stroke.
Hormone Production
Cholesterol plays a part in the production of hormones such as testosterone, estrogen, progesterone, aldosterone and cortisone. The main areas where this occurs in the human body are the adrenal glands, the ovaries and the testicles. As the forerunner of the making of all steroid hormones that the body produces, according to The Endocrine Society, in PubMed Central of the National Institutes of Health, cholesterol plays an important role in the regulation of many of the body's functions. These include stress response and reproduction.
Cell Structure
The body also uses cholesterol to make cell linings or membranes. Similar to fat, cholesterol with its many functions is an essential element for healthy human beings. One way the body attempts to regulate its cholesterol is by a protein receptor on the surface of cells that attracts some of the "bad" cholesterol. Through a series of chemical changes inside the cell, it appears this cholesterol becomes less harmful. Lifestyle is as important as the body's own attempts to regulate its cholesterol. Inherited problems cause some people to have high cholesterol even though they live a healthy lifestyle. This occurs in approximately 1 in 500 people, according to The Advanced Light Source from Berkeley Lab in Berkeley, California. Lifestyle modification, such as developing good exercise habits and eating a healthy diet, is effective in keeping desired cholesterol levels for many people.
Digestive Aid
Another function of cholesterol is in the production of bile acids, sometimes called bile or gall. This substance, produced in the liver and stored in the gallbladder, helps with digestion. When you eat fats, your body releases the needed bile into your intestines. Here the bile promotes movement of the intestinal walls and aids in the absorption of nutrients. It also prevents the decay of food during digestion as well as emulsifying fat. That is it causes the fat to mix with other liquids in the digestive tract.
Vitamin D
The human body makes its own Vitamin D given enough sunlight. One of the functions of cholesterol is its role in the production of Vitamin D. Vitamin D is necessary for the use of calcium and phosphorus in humans, which is for good bones and cartilage. A deficiency of Vitamin D can lead to rickets, commonly known as a bone-softening disease. In years gone by cod-liver oil provided a good source of Vitamin D. Today fortified foods such as milk contain this necessary vitamin because most of the natural foods consumed do not supply much Vitamin D.
Risks
Cholesterol functions in many different ways to help the human body. For something so necessary, it can cause illness like heart disease if left unchecked. Be certain your doctor looks at your total cholesterol picture when you go for your annual checkup. Also, get plenty of exercise and stay away from too much animal or saturated fat. Look for foods with no trans fats and mostly polyunsaturated or monounsaturated fats. This will help keep your cholesterol numbers in good range so your body functions well and utilizes the cholesterol you do have in the best ways. That means not using it to clog your arteries.