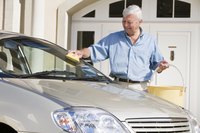 Paying off your new auto loan early can save you money on interest, but freedom from monthly payments may be even more advantageous. Your interest savings, if any, depend how your loan is structured and the rate the loan carries. However, paying off your loan early increases your choices and can improve your credit score.
Save on Interest
You'll save money by paying off your auto loan early if it's the most common loan type, a simple interest loan, according to Bankrate columnist Don Taylor. For a simple interest loan, you pay interest only on the part of the debt that's outstanding. The higher the interest rate and the sooner you pay off the loan, the more you'll save. Calculate your potential savings with the Bankrate online loan calculator.
If you want to pay off the loan by sending extra money each month, first contact the lender to make sure the money goes toward principal, recommends finance guru Jean Chatzky. Some auto loans have a prepayment penalty or are structured so you don't save by paying them off early, according to Taylor. Check by calling your lender or reading your loan documents.
Expand Your Opportunities
If your new auto loan has a low interest rate, your savings from early payoff may be modest. But the main advantage of paying off your loan early is that it frees up the payment amount to invest elsewhere, according to Chatzky. For example, if you have a payment of $450 each month, you could add that amount to your emergency stash or save it toward future goals, such as college, retirement or the down payment for a home. You could even put it in a fund for entertainment or travel.
Make Your Own Coverage Choices
Lenders typically require full collision and comprehensive insurance as long as you have an auto loan. These types of coverage fix your car if it's damaged through your own fault or because of theft, a natural disaster or vandalism. After you pay off the loan, you can save money by dropping comprehensive insurance if you choose. If you pay it off early, you can save even more.
You'll still have to carry the liability insurance required by your state, and any damage to your car that collision and comprehensive normally cover will be your expense.
Improve Your Credit Score
Paying off your car loan early may help your credit score, depending on when you do it. Because on-time payments also typically improve your score, keep the loan and make timely payments for one to two years if your score is an issue, recommends CarsDirect automotive editor Armaan Almeida. After that, paying off the loan early may raise your score by reducing your indebtedness.