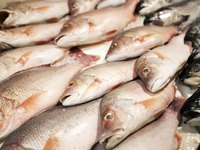 Mercury is a pollutant pumped into the air by factories and power plants. As it falls onto the ground and into waterways, it is converted by bacteria into a dangerous toxin called methylmercury. Seafood is the food most commonly contaminated with methylmercury in the U.S., but other products can contain it, too.
Fish and Shellfish
Almost all fish and shellfish contain trace amounts of mercury, according to the U.S. Food and Drug Administration. The levels of mercury in most fish aren't dangerous to the general population, but the FDA advises that pregnant women, women who may become pregnant, breast-feeding mothers and young children avoid high-mercury varieties including shark, swordfish, king mackerel and tilefish. Pregnant women and young children should limit themselves to 12 ounces of other low-mercury seafood per week. Fish contains mercury because it absorbs methylmercury through its skin from the water. The contaminant builds up over time, which is why large fish have higher levels of mercury than smaller ones do.
Insidious Contaminant
In areas with busy mercury and zinc mining and smelting industries, methylmercury is a much more prevalent food contaminant. In parts of China, for instance, drinking water, meat, poultry, corn, vegetables and rice were all contaminated, according to a 2010 study published in "Environmental Health Perspectives." Due to stringent environmental regulations, mercury contamination is not usually a concern for products grown in the U.S. The FDA offers alerts and advisories for domestic and imported goods.