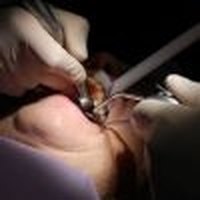 Your smile is one of the first things people notice when they look at you. A mouth full of yellow teeth does not give the best first impression. Many causes of yellow teeth can be avoided, although sometimes nature is at fault.
Natural Causes
Some people just have the misfortune of naturally yellow teeth. Dentin is the layer just below the tooth's enamel, and it has a natural yellow hue. When a person's tooth enamel isn't well mineralized, the enamel becomes translucent and the yellow of the dentin shows through. This condition can often be corrected by advanced whitening techniques.
Early Medications
A child's tooth enamel continues to form until somewhere around the age of 8. If a child is given large amounts of tetracycline while the enamel is still forming, his teeth can become stained. Tetracycline can cause teeth to look yellowish-brown or grayish blue. This staining can be permanent and last well into the adult years.
Aging
As people get older, their bodies change. Teeth aren't excluded from the aging process, and they can become stained from years and years of stains penetrating the enamel. The enamel also gets thinner over time, allowing more of the dentin to show through and creating a yellow appearance.
Oral Hygiene
People who do not practice good oral hygiene often end up with yellow, stained teeth. Brushing regularly gets rid of stains on the surface of the teeth by not allowing them to seep through the protective layer and permanently stain the enamel. Good oral hygiene gives you a beautiful smile and saves you unnecessary, and often painful, trips to the dentist.
Eating Habits
Certain foods that you eat can permanently stain your teeth over time. Coffee is one of the main culprits of yellow, stained teeth. Other offenders include soda, tea and berries. These all have chromogenic properties that affect the tooth's natural white color.
Smoking
Everyone knows that smoking is bad for your lungs, but it is equally bad for your teeth. Just like the residue that builds up on your lungs, cigarettes contain chemicals that leave a layer of residue on smoker's teeth. Nicotine and tar cause the worst staining. Cigarettes that have high amounts of tar and nicotine will leave your teeth yellow.
Prevention
There are several ways to save yourself from a lifelong yellow smile. Follow your dentist's instructions, brushing at least twice a day and flossing daily. It is especially important to brush immediately after consuming chromogenic foods and beverages, such as coffee, tea, soda and berries. Chewing sugarless gum between brushings can also help ward off yellow teeth. Using whitening strips several times a year is a good preventive measure. If your pearly whites get darker over time, there are professional procedures such as laser bleaching that can be performed at your dentist's office.